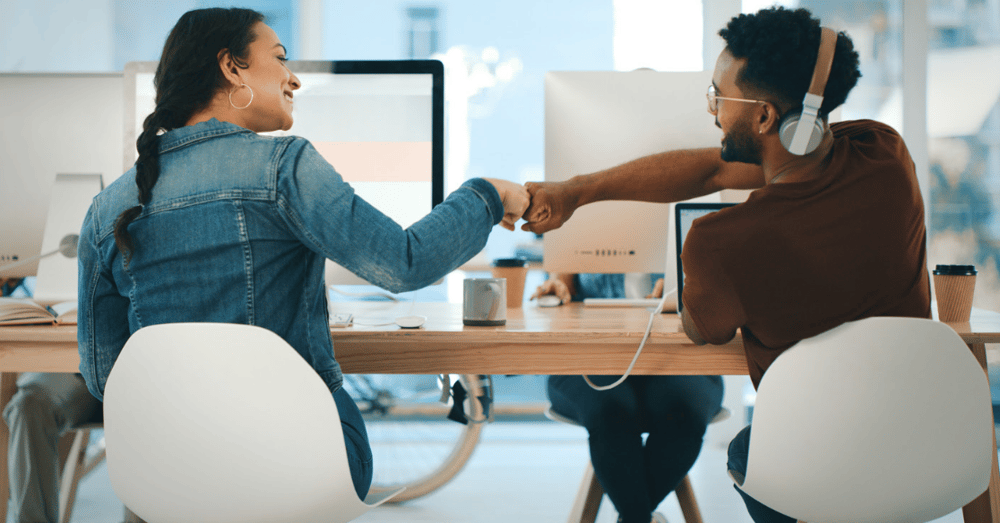 More and more, the hybrid workplace seems to be the new normal. Of course, hybrid work isn't a new concept. Several businesses had already adopted it to some extent prior to the COVID-19 pandemic (including us at Ripple!). However, the pandemic accelerated this transition and forced businesses, both big and small, to adopt this new workplace environment.
As various businesses continue to map out how this new normal will look, one trend is gaining prominence: the hybrid workplace is here to stay. In fact, according to Steelcase's Global Report, 72% of corporate leaders have a plan to offer a hybrid work model.
Suppose you're one of those businesses that quickly switched to remote or hybrid work without a solid plan; now is the time to develop a strategy for the long term. Let's take an in-depth look at five effective strategies for a hybrid workplace.
But first, a quick look at what a hybrid workplace is.
Hybrid workplace definition
A hybrid workplace is a flexible workplace model designed to support both remote workers and in-office workers. In this workplace model, workers have the flexibility of working from wherever they are most productive: in a brick and mortar office, from a remote location, or a combination of the two. Besides the key criteria of combining remote and in-office workers, the most important parts of a hybrid workplace are support and flexibility.
Below is an outline of some effective hybrid workplace strategies:
1. Incorporate next-gen experiences in every space
The conventional workplace was all about employees being present in a defined physical location. The future, however, focuses on flexibility and combining remote and in-person collaboration.
In order for the hybrid workplace to truly transform your business, virtual spaces must merge with physical spaces and technology is required to help people accomplish their tasks throughout the day. This takes intelligent devices and intuitive software that not only facilitate great collaboration but also provide insights to constantly enhance employee experiences. They should also allow you to deploy and manage your solutions easily in a reliable and secure platform.
By using intelligent hybrid workplace solutions, you can create a productive work environment where everyone in the team, remote or in-person, gets a first-class experience.
2. Flip enclosed and open office spaces
It's an excellent time to rethink the open office plan. For many years, individual workstations have changed to be more open with the ever-increasing density. On the other hand, meetings are being held in enclosed spaces. As people start going back to the office, these spaces will begin to shift. Individual focus work will occur in enclosed places like small enclaves or pods, while meetings will happen in open spaces.
Open collaboration workspaces are essentially more flexible given that they no longer require fixed components in their design. As such, they can easily transform as new work patterns emerge. Quick stand-up meetings no longer require a stuffy conference room.
In contrast, individual workspaces will require more enclosure to provide different levels of acoustic and visual privacy that people have gotten used to while working from home. Video calls will happen everywhere, so personal areas should mitigate disruptions and provide people with places to focus at the same time.
3. Build a conducive hybrid workplace culture
Most people don't want to work exclusively in the office or at home; instead, they favor a 2/3 split or 3/2 split depending on the work that needs to be done. So, how do you create a vibrant culture that ensures that all employees are happy? Here's how:
Ensure you're clear about who is eligible: Hybrid work isn't necessarily open to all employees (consider ballet dancers, pilots, and electricians). Organizations need to offer clarity on which positions or roles are eligible for hybrid work.
Don't replicate bad habits: When defining your hybrid work, be sure to identify any bad habits that may hamper productivity and remove them from your hybrid culture.
Your technology should foster collaboration: You need to invest in not only the best technology but also one that teams agree on how to use. Just having Microsoft Teams doesn't necessarily mean it supports effective teamwork. Technology should support teamwork, not get in its way.
4. Create opportunities for employees to connect
Isolation is a major issue for most remote workers. For this reason, providing connection opportunities for employees is important. Make sure that you institute policies that encourage full-time remote employees to occasionally meet with their in-office counterparts. Additionally, you can create communication channels (in tools like Slack) that promote social interaction between colleagues who have shared interests.
Employee connection is vital given that one of the key elements of job satisfaction is employees knowing how they fit into the company and how their contributions affect other colleagues and the organization as a whole.
5. Include the right leaders
Your hybrid workplace affects the whole workforce and various business outcomes. As such, certain leaders need to be part of the process from the word go. Such leaders may include the CEO and the human resource manager. When these leaders are involved in developing the hybrid workplace plan, they will be better placed to guide other employees on what to do to ensure that productivity isn't affected by the change in the work environment.
It's time to adopt a hybrid workplace
The future of work is one where employees have the flexibility of choosing either to work remotely or from a brick and mortar office. As such, it is important that businesses adopt this new trend to be able to maintain employee productivity.
At Ripple, we understand that hybrid workplaces require a combination of culture, technology, and processes. For this workplace model to take root in your organization without negatively impacting productivity, you need to create an IT infrastructure that facilitates easy maintenance and transition.You also need to take time to ensure your hybrid workplace is secure to protect yourself and your clients.
Reach out to us for a 30-minute consultation with our team. You'll be well on your way to a more proactive IT infrastructure.
Don't Fall Behind!
Get the latest work-from-home and Humans First® IT tips straight to your inbox.