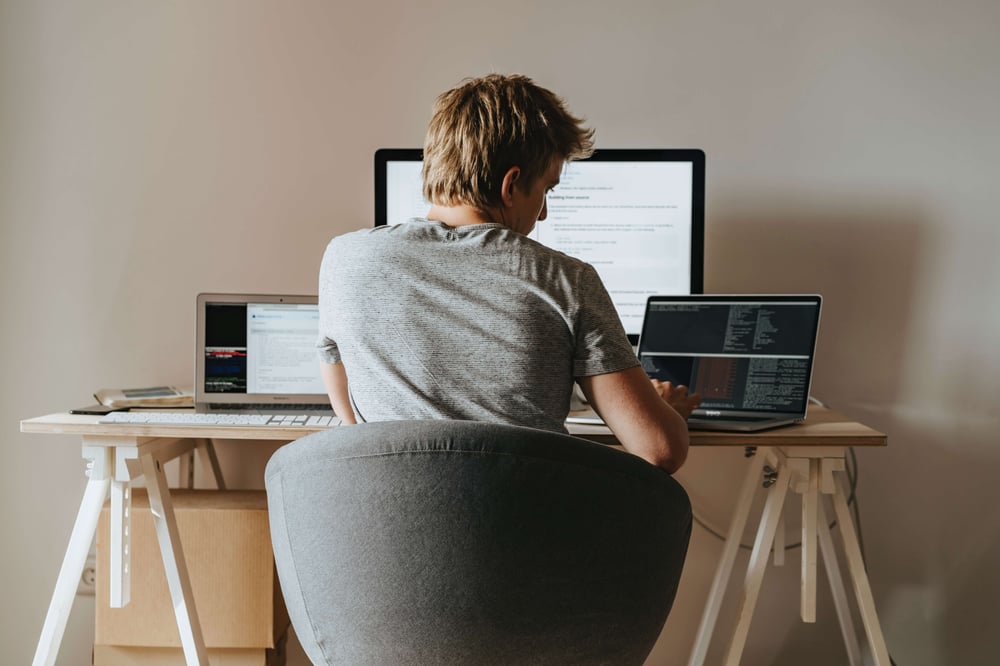 It's accurate to say that every company has been impacted by the pandemic in one way or another. And most companies needed to quickly and abruptly adopt new ways to increase employee productivity. Contrary to expectations, remote working has created immense positive results that have seen many organizational leaders looking for new ways to boost technology and innovation and support continued success and productivity through a hybrid work model.
With the introduction of new technologies and devices, remote work has grown more popular and influential than ever before. So much so that remote working has become the new normal, with over 70% of the global workforce now spending professional hours working away from the office. Others have turned into digital nomads, maintaining an on-the-go lifestyle with no specific working address.
Even better is that office-bound employees are also adopting remote working technologies, creating new opportunities for a flexible working approach for the future. So, which technologies should your organization implement to accelerate and support continuous productivity through remote working? Here is a comprehensive list of the top best technologies and tools that are helping transform remote work.
5G Network
As the next-gen mobile network, 5G, is set to roll out in the United States before the end of 2021. It promises to provide the speed that supersedes 4G by over 100 times, ultimately handling millions of devices, making it easy for people to work anywhere, and simplifying remote work.
A fast and reliable network connection is vital for working remotely, especially for video and communication apps. With the 5G network, locations previously limited by lack of connection to Wi-Fi or internet will transform into potential job locations with unlimited opportunities for remote working.
Virtual Reality And Video Conferencing
Team collaboration in various remote settings has never been easier thanks to Zoom, Skype, and similar video conferencing tools and business messaging apps like Twist and Slack. They provide affordable collaboration solutions to teams looking to create an asynchronous physical experience. Still, they also offer time-efficient solutions to emergency meetings and updates that would otherwise not be possible with remote working.
And with the introduction of virtual reality, this experience is set to move to the next level. Most VR conferencing tools are still in the works, but so far, they have established the idea of the ideal digital conference environment. And to fully-remote organizational teams seeking a personalized conference virtual meeting, VR is the next big thing.
GoToMeeting
GoToMeeting is the ideal solution to remote online meetings. It is a mobile-friendly web conferencing tool designed by LogMeIn. It has a pricing formula that ranges from $14 to $19 per month, and the pro plan can take in up to 150 participants and 250 participants for the Business plan. GoToMeeting comes with recording, screen sharing transcription, and the GoToWebinar/GoToTraining features, all of which can accommodate over 3000 participants and are ideal solutions for larger virtual events.
Zoom
Zoom is the newest remote conferencing solution offering both free and paid plans. While other platforms generally limit the number of video feeds, Zoom provides unlimited high-definition video feeds and a webcam. The chat feature also includes file sharing, message history, and a ten-year storage archive.
Team Communication Tools
Slack
Slack is a new collaboration software that's growing in popularity and aims to replace the traditional internal mail. Slacks utilize channels to handle various projects at once. The only downside is that it has no searchable message communication history.
Chanty
Chanty is the ultimate solution for AI-powered digital chat for small or medium size remote teams. It's also a better alternative to slack since it does not limit message history. Chanty offers organizational capabilities through its Teambook feature, which helps organize tasks, chats and add files in specific folders.
Microsoft Teams
Microsoft Teams is one of Microsoft products that is integrated with other Office apps. It's most suitable for teams already using Microsoft services. It provides real-time support in accessing, editing, and sharing videos, audio, or documents, as well as hosting the same.
Administrative Automation Tools
Remote work provides employees with unlimited autonomy in how they organize their work and environment. However, it's not always easy to self-organize, self-manage, and report work performance all at once. Such administrative roles tend to be tedious even with remote working and may conflict with employees' personal lives. As such, employees need to ensure all schedules and expenses are accounted for if performance and management are to stay constant.
And that's where administrative automation comes into play, taking over digital coordination and improving employee efficiency. To this end, Timely and similar automatic time trackers work to fill this gap, and AI-powered scheduling apps such as Dewo helps with booking remote meetings. AI accounting apps such as Expensify helps with receipt documentation and expenses tracking.
Productivity And Project Management Automation Tools
One of the many advantages of automation is that it helps promote employee motivation. However, structuring and managing your remote working responsibilities can be yet another daunting task. Remote teams need to understand how to structure and organize their duties, whether they're at their best elements or bombarded with distractions.
And that's where AI-based tools help remote employees optimize their schedules and performance, improving time efficiency and workflows. These tools enable remote-based teams to manage deadlines, tasks, and resources more effectively. To ensure efficiency, these tools must have the following capabilities:
Communication functionality

: Enabling your team to brainstorm, share insights and give feedback then ultimately perform proposed tasks more efficiently. In short, they should provide effective collaboration.

Time-tracking capabilities

: Allow your team to understand project timelines and set targets.

Offer overall collaboration support
Examples of such tools include:
Trello
As a visually optimized team collaboration platform, Trello helps your team access and view all of your organization's projects and helps them prioritize the most critical tasks. Its inbuilt workflow automation feature, Butler accelerates productivity by literally performing tasks for you and identifying potential inefficiencies in your workflow.
ClickUp
ClickUp provides seamless transfer of content from various productivity softwares to other project management tools. It has powerful productivity and project management capabilities and can handle simple tasks to large-scale projects within your company.
Wrike
Wrike is a suitable project management software for medium size teams that features Gantt charts, drag-and-drop dashboards, among other interactive features. Wrike also comes with a mobile app, intuitive interface, and unlimited support for continuous tasks.
Miro
Designed to promote remote team productivity, Miro is a straightforward collaborative platform suitable for generating ideas and encouraging creativity. It comes as a robust whiteboard that requires no erasing and features the interactive Miro Mind Map, which helps teams brainstorm and organize ideas effectively. It is the ideal tool for project managers and designers working with remote teams.
Cloud Computing Tools
Cloud computing offers timely delivery of IT tools. Cloud computing is a cost-effective solution to managing IT infrastructure without physical equipment or an in-house IT team. Here are the three top cloud services providers offering public cloud. Note that you can work with various vendors to optimize cloud services that align with your business needs.
Amazon Web Services
Since its inception in 2006, Amazon Web Services (AWS) remains one of the most highly customizable cloud-based services offering public and private web services. As the leading program in the cloud services industry with over 175 services, AWS offers three different pricing options and one-year free tier access.
Microsoft Azure
Microsoft Azure first entered the market in 2010. With its Windows and Linux-compatible solution, it adopts a "cloud-first" approach, which works with any business. Microsoft Azure offers a one-year free tier complete with a calculating cost model to help you understand the various costs of its many products and services.
Google Cloud Platform
Google Cloud offers user-friendly cloud services. Powered by strong AI and machine learning capabilities, Google is best known for its open-source technologies and innovative culture. Google Cloud comes with a free 90-day trial period and offers credit worth $300 to new customers, so they can explore the products and services on offer.
Remote Training Tools
Unlike in-office working, remote working comes with a set of orientation challenges, especially for new teams. For organizations with a global remote team, it's not possible to fly in a new team every week for orientation at the physical headquarters. Thankfully, with technology, you can conduct seamless orientation sessions for your newly-onboarded team wherever they are.
Orientation tools like Tuple enable remote teams to collect and share company culture, policies, and work ethics through professional hands-on experiences. Similarly, apps such as BigMarker let your company record essential training for future reference, which helps standardize the orientation process hence making it cost and time-efficient.
So Which Tools Do Your Remote Workers Need?
As we have seen, remote working began as a necessary survival tactic to maintain productivity, organizational growth, and health safety amid a deadly pandemic. But like other working strategies that were adopted alongside remote working, we see it becoming an accepted working practice that is not going anywhere anytime soon.
With more and more companies adopting a hybrid working approach, investing in the ideal remote working tools is your best option for keeping up with the ever-changing global corporate trends and maintaining efficiency in your employees' workflows.
Depending on your industry and business needs, your team may require a new tool that may not be listed here. Ready for more IT support? Book some time to talk with our team today and share with us your most pressing IT questions.
Don't Fall Behind!
Get the latest work-from-home and Humans First® IT tips straight to your inbox.