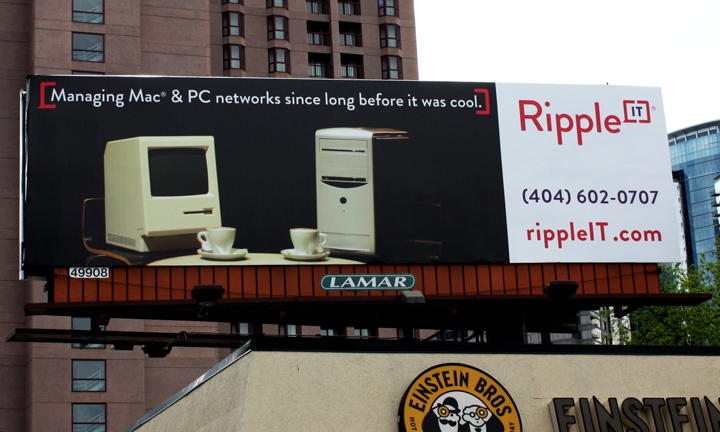 Not so long ago, it was rare to see Macs and PCs in the same office. Rarer still were those Macs that received decent IT support. It was a time when a lot of IT people were saying things like, "Real companies don't use Apple®" and "Those are toys, not computers". Thankfully, most are now onboard with the idea that Macs are here to stay, and all agree they need the same serious support as PC workstations.
The problem is, very few companies have had enough experience with Macs to understand them. It's difficult to find an IT company that knows all the details of working with Macs, much less the ins and outs of navigating Mac/PC networks. Well, it was difficult, until our billboard went up in Midtown Atlanta. Since then it's been easier to identify who's got Mac & PC networks taken care of.
Ripple has been an Apple-friendly IT company from the start (1997 for you curious types), ever since Mike was hauling around a borrowed Mac SE/30 in a used Chevy Spectrum. Things are pretty different these days. For one, The Ripple Team is more than just Mike, and instead of a $500 car we've got our own Ripple-branded MINI Cooper. But no matter what vehicles get us around town, our message remains the same.
We help people, not computers.
That means we don't shy away from supporting cross-platform networks. If there's a tool people use to get their work done, we make it our priority to understand it inside and out. Whether it's considered cool or not.
Don't Fall Behind!
Get the latest work-from-home and Humans First® IT tips straight to your inbox.