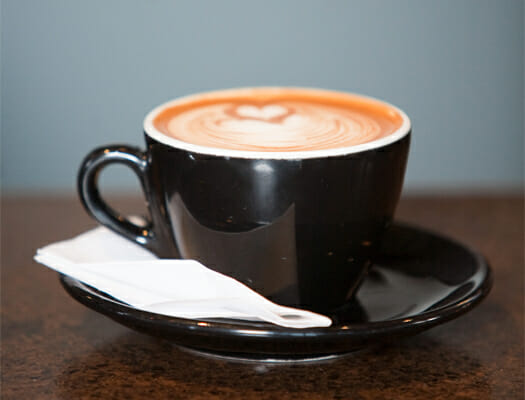 Some people might wonder what a semi-automatic espresso machine is doing in the office of an IT company. The truth is, that silver beauty says as much about our values as a company as it does to our roots as an Atlanta startup.
During Ripple's formative years, Mike met Tony Riffel, a fellow transplant to Atlanta who was starting his own small business: Octane Coffee Company. Mike approached him about Octane being an early adopter of Ripple's Free WiFi campaign, and explained that it would benefit Octane as much as it would Internet-hungry Atlantans, who were eager to have more WiFi-enabled places from which to work. As a former employee of Octane myself, and a current Rippler, I was able to get Tony to spill the beans (horrible pun intended) on those early years.
[ Josh ] So, the Ripple and Octane relationship began with free WiFi?
[ Tony ] Yeah. Mike came in before we opened saying that they would install and manage it free of charge so long as we didn't charge our own customers for the service. He said that he wanted to create more internet-ready places for Atlantans to work, which was great because it gave us some initial, built-in customers. After opening, we saw a lot of Mike, and he and I became friends.
[ J ] So did the Free WiFi contribute to Octane's business?
[ T ] Free wifi was a bit of a novelty when we opened, and people sought us out for it. A lot of the press we received talked about the wifi. It really helped build our business, and cemented us as a hub in the community. Many people used Octane as their office and some great companies started right there. Having a place to work, network, and connect is, if you ask me, one of our best contributions to the neighborhood.
[ J ] How did Ripple get a hold of a professional-grade espresso machine?
[ T ] About 4 years in, Octane decided to go from a 2 group machine to a 3 group machine. Ripple was growing and moving to a new space and I think Mike liked the idea of making the office a fun place to be. They purchased our original 2 group machine and we gave them one of our original signs that still hangs in their Atlanta headquarters.
[ J ] So, they had the machine, but how did Ripplers learn to use it?
[ T ] In the beginning, Octane set up a training class for the Ripple staff. It was a mini version of our own training, and Mike made sure that anyone who worked the machine had to attend the class. After that first round, there were a few follow-ups, and we'd train the new hires as Ripple grew. Of course, his master plan was to hire one of our best baristas to have on his staff 🙂
[ J ] Definitely one of his best ideas. What's the relationship like between Ripple and Octane now?
[ T ] We continue to have a great relationship with Ripple. We recently added their OfficeTalk phone service, and all of our locations still have Ripple Free WiFi. Ripple still has our original machine, and uses Octane beans to make their drinks. Mike and I are a lot busier these days, but we still find time to talk business and hang out when we can.
[ J ] Will there be an Octane NYC to keep Ripplers caffeinated up north?
[ T ] New York has long been a goal of mine. Right now, we're taking it one step at a time, but I can't think of a better reason to go than to caffeinate Ripplers. Keep growing and hiring so we can make that happen!
Don't Fall Behind!
Get the latest work-from-home and Humans First® IT tips straight to your inbox.