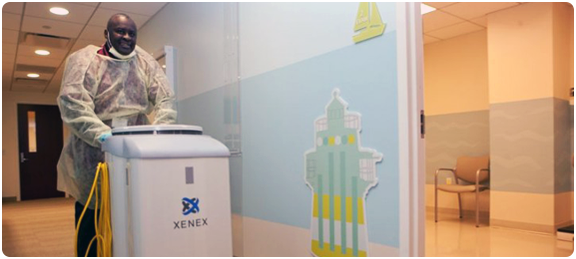 Xenex is the creator of a UV-C emitting, microorganism-combating robot that reduces the number of healthcare associated infections. Located in Texas, this rapidly-growing company provides its services to a number of healthcare providers around the United States. This powerful robot saves nearly half a life per month, and with this in mind, Xenex is driven to continue their rapid growth and save even more lives.
When Xenex began to grow back in 2012, they were referred to Ripple for IT support. Even remotely, Ripple is able to provide Xenex with the support they need to continue to grow. Ripplers started from the bottom up, creating a business-class wireless system with multiple Meraki access points to support Xenex employees working remotely as well as in the office. We also provide Xenex with our VoIP phone system (OfficeTalk). Besides having a kick-ass wireless network and phone system, Xenex also meets with their Ripple team to budget for technology updates, work through system kinks, and prepare for growth. Since Xenex has grown at such a rapid pace, Ripplers have computers ready to be deployed whenever a new employee is hired so they can get started right away.
For more information on how Ripple supports Xenex in their mission to save lives, check out our case study by clicking the link below. To get in touch with a Rippler to see how we can help your company grow seamlessly like Xenex, shoot us an email. We'd love to hear from ya!
Don't Fall Behind!
Get the latest work-from-home and Humans First® IT tips straight to your inbox.