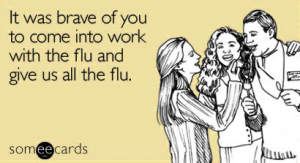 What's a sick day like when you work for a results-only company? I can answer that. First, let me start out by mentioning how at other jobs getting sick often meant either coming into the office with a cold, or worrying whether a day of recovery would cost me some vacation time. And taking two days off? That was just unheard of. God forbid I keep my germs to myself by steering clear of the office.
That's not the case working for Ripple. First of all, I do most of my work from home. Marketing and content creation doesn't require a ton of days in the office, but it does require a lot of calls, chats, and emails. And when you're reeling from a fever, coughing up a storm, and sneezing in between sentences it doesn't matter where you're working from, putting in a full 8-hours just isn't gonna be possible.
In a results-only company it's not when you do the work that matters, it's how good a job you do and that it's done on time. So, if I can do my best work after a day or two of recovery and still have it ready when it needs to be, well, then that's when I'll do it. And the best part about it? I'm not made to feel guilty by anyone at Ripple, including my boss. In fact, he'd prefer I stay away from our Atlanta Tech Village office until I'm at 100% health. That way, there's less a chance he or anyone else might have to take a sick day.
Of course the support guys have to do a bit more shuffling to make sure everything's covered when a man (or woman) is down, but that's just another example of how we work as a team to get things done. For neither rain nor sniffles, nor sneezes nor dark of night shall stay Ripplers from kicking ass.
Don't Fall Behind!
Get the latest work-from-home and Humans First® IT tips straight to your inbox.