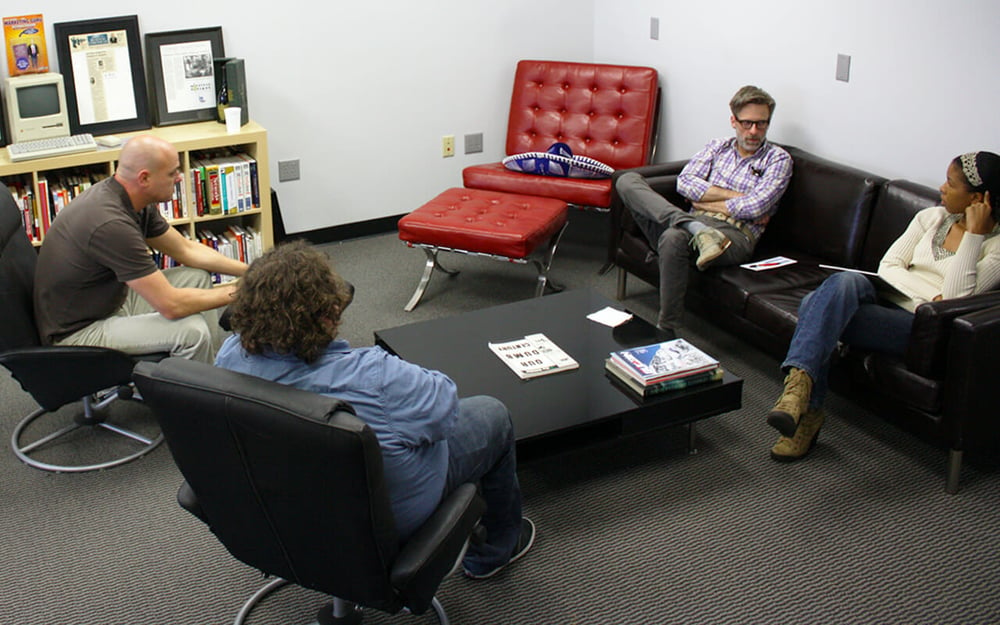 Now that Ripple is not only the official IT service provider for the Atlanta Tech Village, but also one of the first companies to take up residency in the 100,000+ sq/ft building (currently undergoing a complete overhaul) we want to keep everyone up-to-date on the installation of the new superfast network that Ripplers will be managing.
For the last several weeks, our man Homer Bartlett has been going back-and-forth between our current office in West Midtown and the soon-to-be Ripple headquarters in Buckhead to oversee the buildout of a Meraki network that will lie atop over a full gigabit of fiber optic internet bandwidth! To put that in perspective… well, let's just say it's a whole lot of bandwidth. This newly built network will be able to serve with ease the 100s of companies and thousands of visitors who will occupy the ATV each year. Homer was kind enough to explain to me just what the specs of this new network mean and how our managing the infrastructure will help keep IT costs low for occupants of the Atlanta Tech Village.
What are the full specs of this new network?
[HOMER] We have 1.4 Gbps of fiber optic internet bandwidth from 2 major internet service providers (ISPs). Once inside the building it's Cat6 Ethernet and top-of-the-line Meraki gear end-to-end: Firewall, gigabit switches on every floor, and enough dual-band, multi-radio access points to provide VoIP-quality WiFi throughout the building.
What exactly does a gigabit of fiber mean for a building of this size?
It means that Atlanta Tech Villagers will enjoy a super fast, low latency internet connection all the time, even when there are 300+ people in the event space (also enjoying super fast, low latency bandwidth) and 25+ folks streaming music over WiFi at the coffee shop.
How does Ripple handling the network infrastructure benefit the companies within the Atlanta Tech Village?
We could manage this network from anywhere, of course, that's one of the reasons we use Meraki gear. But having us in the building removes the small psychological barrier of calling "that outside network vendor" with a question. We'll be villagers helping other villagers.
Why did Ripple choose to go with Meraki?
We have a lot of great experience with Meraki network equipment. For us it's all about ease of management and quality of support. We manage dozens of Meraki networks around the country from right here in Atlanta. Things just work, and when we need assistance with a unique or challenging configuration, Meraki support is always great to work with.
Will this network be out of date in a year or two, or stand the test of time?
As Yogi Berra said, "prediction is very hard, especially about the future." But yeah, this will be solid for at least 2 years. At that point, 10-gigabit networks may the new high end and no longer priced in the stratosphere, and if the Atlanta Tech Village decides we need that then I have no doubt we'll get it.
What all has to happen before the network is up and running for the ATV?
Some of the permanent wireless device installations will be dependent on the building renovation. It doesn't make a lot of sense to run network cables only to rip them out in 6 months and re-run them. So for now the core devices are securely installed in their permanent homes, and we're installing wireless devices in a sort of ad-hoc manner to keep up with occupancy and building renovations.
Will the wifi network support guests?
Indeed, one of the core requirements we discussed during the design phase was the ability to have separate networks, with separate access and bandwidth controls, for the event space and coffee shop. Villagers will also have guest WiFi passes to enable their guests to get online when they visit.
Thanks!
My pleasure!
Don't Fall Behind!
Get the latest work-from-home and Humans First® IT tips straight to your inbox.