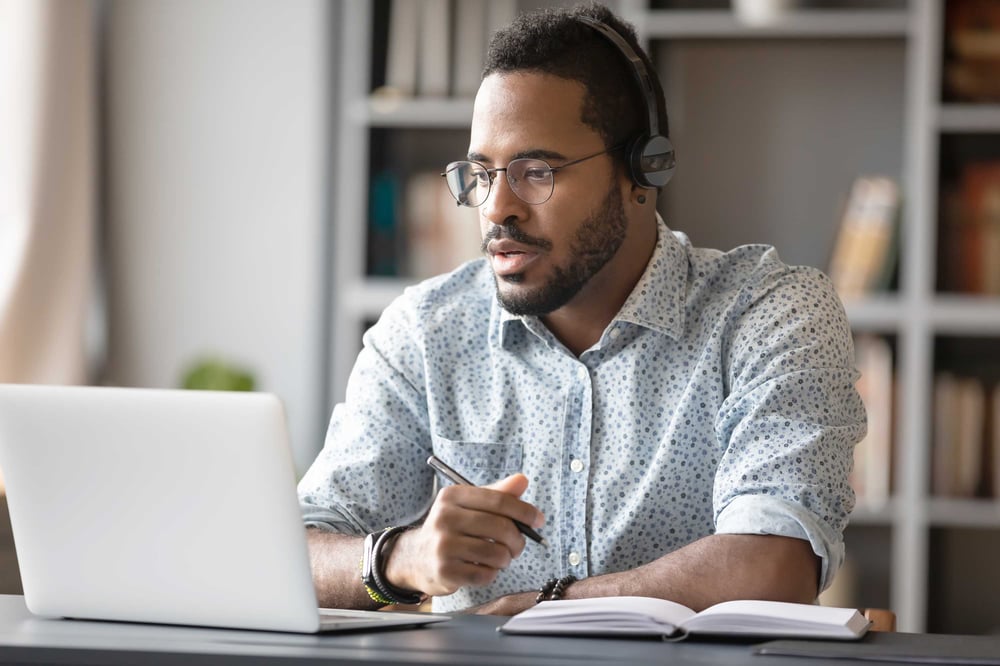 Download our video conferencing infographic for quick reference and sharing: Ripple Guide To Video Conferencing
1. Get comfy, get connected
Find yourself a quiet, clean, and above all private room with a good internet connection.
BONUS TIP: Go beyond the WiFi bars and test your connection beforehand by visiting speedtest.net, and running a quick check on your download and upload speeds.
TL;DR Schedule some alone time with the internet.
2. Is this thing on?
Whenever possible, use a good pair of headphones or an equivalent setup. The speaker and microphone built into your laptop really won't cut it.
BONUS TIP: If you plan on making video calls and conferences on the regular, think about investing in some conferencing equipment. There are a ton of options out there, from simple web camera and external mic setups to fully integrated enterprise solutions.
TL;DR Earbuds/Airpods are your friend.
3. Let there be light… in the right place
To ensure the best video experience, don't sit with your back toward a window or strong light source. Instead, try to position yourself so that the light source is coming from the front or side of where you are sitting.
BONUS TIP:Some webcams have their own light source, which can vary in quality, but a sure bet is something like an inexpensive ring light, which will allow you to stream or record a good-looking video from just about anywhere.
TL;DR Light from the front equals good. Light from behind equals bad.
4. Make eye contact, not action films
Whatever you do, make sure that your laptop is on a still surface and not likely to be bumped; then position your camera at or close to eye level. For some laptops this might require putting some large books or a box underneath. Just keep it stable—nobody likes a shaky cam call.
BONUS TIP: Is video conferencing going to be a big part of your life? Think about picking up an adjustable laptop stand, which will ensure that your camera can be positioned at just the right height while remaining steady on desks and flat surfaces.
TL;DR Look forward, look often.
5. Always do a dry run
If you're the host of the video conference, test everything out by calling a friend or coworker first. Ask them how the picture and audio is on their end.
BONUS TIP: One of the most common mistakes when using video conferencing software is not having selected your microphone and camera as the audio and video inputs, respectively. Check that they are, and that you've given permission for the software to use them.
TL;DR Make a practice call to a compadre.
6. Stay focused
All the general rules about electronics and other distractions apply as much to video calls as they do to watching a movie in a theater. It can be very tempting on video calls to check your email, respond to alerts, etc. So, do yourself a favor and close all other apps and set all of your devices to Do Not Disturb.
BONUS TIP: An often overlooked distraction is the quick pop-in from friends or coworkers. You don't have to go as far as locking the door, but a post-it note on the door can do wonders when room scheduling software and shared calendars aren't available or are ignored.
TL;DR Send that fire Tweet another time.
7. Keep it old school
Taking notes on your laptop can be just as big a distraction as incessant email alerts, and you could end up driving attendees crazy with the clickity clack of your keyboard. So, don't underestimate the value of a good ol' pen and scratchpad.
BONUS TIP: There are a bevy of note-taking apps for phones and tablets that boast about their ability to help you keep track of every idea, list, and link across all your devices. And they can, but keep em on ice until after the call. Doing this can help you better organize your thoughts in the long run.
TL;DR Write stuff down.
Download our video conferencing infographic for quick reference and sharing: Ripple Guide To Video Conferencing
Follow these seven steps and you'll be on track to having the best video conferencing experience of your life, technically speaking—the rest is up to you. Pink polo or everyday oxford? Tortoiseshell frames or cat eye contacts? Hop on a video call with a trusted friend for some help there.
Need some help determining what equipment and network capabilities your company should have for video conferencing? We can help. Contact our team of IT experts and we'll be happy to guide you in the right direction, even if it's just to tell you that you have the privacy shutter closed.
Don't Fall Behind!
Get the latest work-from-home and Humans First® IT tips straight to your inbox.