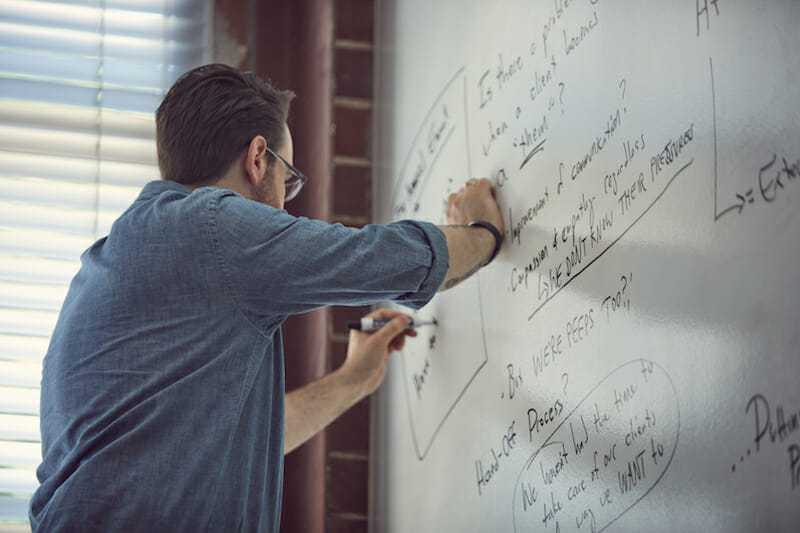 The moment you're looking to buy any technology…
Take the time to consider what you're really looking to buy. Consider how you want this solution to integrate, store, and/ or access corporate information. There are endless amounts of applications out there. Many are very good and likely offer the exact business process you're looking to improve. However, that shouldn't negate the need to evaluate whether or not the tool will be an effective investment.
Consider the following:
Should all staff should have access to this?
What are the costs involved?
Are there any prerequisites (e.g. other software)?
What type of change management is necessary?
What we've seen work…
Design a list of must have's. This list should be all the features and functions desired. Further, have a team build the list. That same team should be in agreement of what you're looking to buy. It's important to ensure any technology investment is evaluated. For example, if you were evaluating a bundled cloud application suite (ie Google Apps or Office 365), here are some sample criteria.
Such a list should be shared with key stakeholders and staff members who will be piloting the application. Ideally this will also serve well to track any and all findings: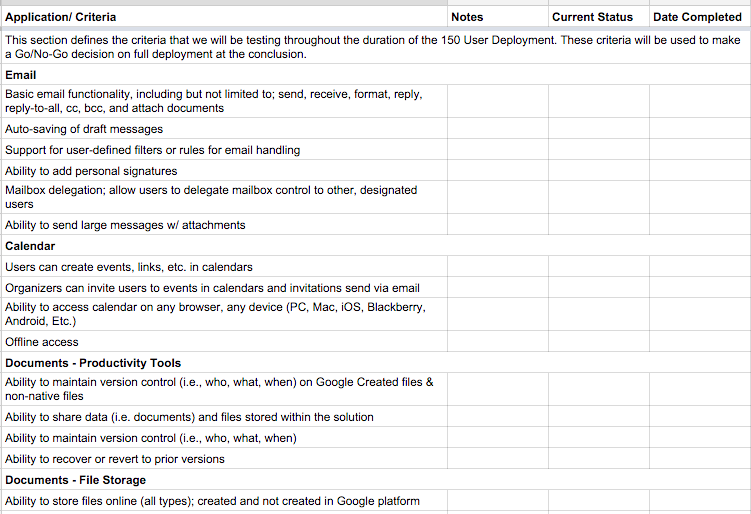 This is just an example. Your team will need to determine what is necessary to in order to make a go/ no go decision. Designing a specific criteria will take some time.
Here are some example questions the team of relevant staff members should use to build a success criteria:
What is the primary function we're seeking to deploy?

What is the primary function of the application being evaluated?

What are the must have features this application must have?

What are the nice to have features we're looking to gain?

Is the primary function of the application the primary function we're seeking to deploy?

Are there any business critical integrations with other applications that must be available?

Are there any corporate policies that must be met before purchasing or deploying such an application?

What is our budget?

What is the applications pricing structure?

What additional fees (if any) should we consider? (e.g. setup cost, ongoing additional costs, etc)

What type/ amount of training will be necessary for the staff to use this application

What type/ amount of training is available -and at what cost?

Will the staff use it?
In Closing
A success criteria, based off of the questions above, should allow you to hold a functional and technical assessment of the application(s) evaluated. If successful, this will guide your team to make a go/ no go decision that meets your needs and budget. Further, making this process part of your normal day-to-day behavior will increase productivity and organization satisfaction while lowering the costs of deploying multiple unnecessary tools.
Don't Fall Behind!
Get the latest work-from-home and Humans First® IT tips straight to your inbox.