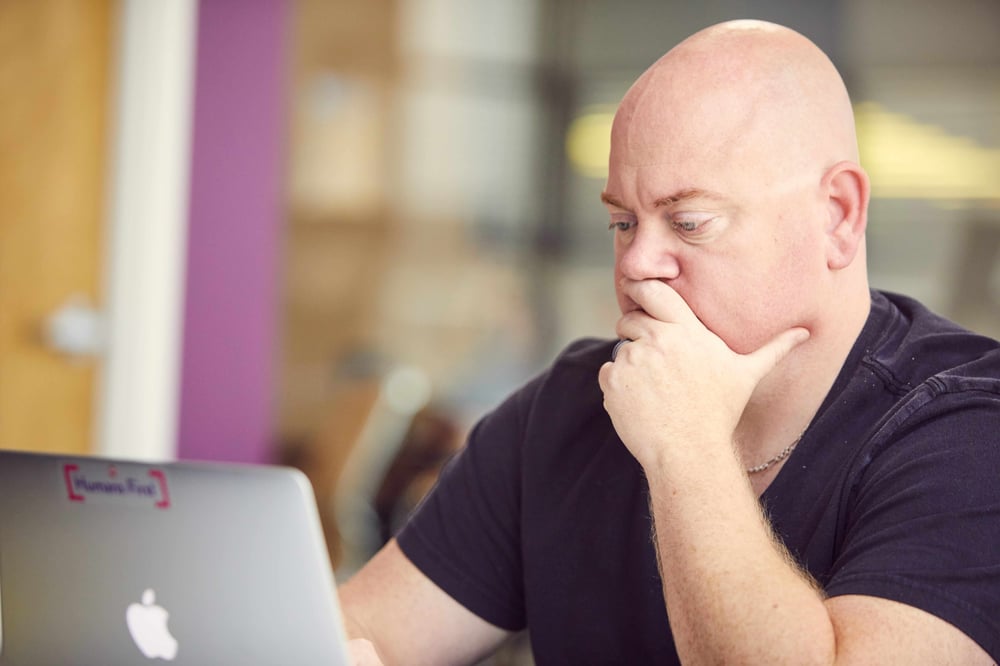 Cybercrime is on the rise
Today, business owners are challenged to be in the know when it comes to security and IT leadership decisions. Without this knowledge, the tasks to maintain a secure workforce grow increasingly more complex. This challenge becomes even more difficult when your team is trying to maintain remote work security while shifting to a hybrid/remote workplace, as many companies are now doing.
It is not your staff's responsibility to understand all the specifics of most technologies. However, it is in your organization's best interest to educate on how to access critical and highly sensitive information.
The seven security questions every organization should ask
To get you started, here are seven critical security questions your organization should ask:
1. Have you performed a risk-minded audit?
You can't identify your organization's security flaws if you don't perform a thorough audit. Your managed IT services provider will assess your business's security needs and pinpoint any vulnerabilities. From there, they can help you fill in any gaps and reduce potential threats.
2. Are there any state or federal regulations your firm must follow?
Various industries and sectors are subject to federal rules and regulations – many of which relate to privacy and data storage. Be sure to educate yourself and follow these regulations carefully.
3. What are your immediate priorities for securing your business data?
Create a list of high-priority data. This list will most likely include login credentials to business-critical apps and services, as well as sensitive staff and client information.
4. What is your disaster recovery plan?
If your business were to endure a disaster – natural or human-made – how would you recover? A disaster recovery plan is a formalized document that details the step-by-step procedures and processes that your team would follow in the event of a flood, fire, hardware malfunction, security breach, or other catastrophes.
5. What are you doing to educate your staff on IT security?
If your team is not aware of cybersecurity best practices, your business is an easy target for cybercriminals. Even something as seemingly harmless as a weak password can result in a full-blown attack. Incredibly, more than 70 percent of employees reuse passwords for both personal and work accounts.
Another significant vulnerability is your staff's email accounts. A staggering 90 percent of cybercrime begins with a malicious email – educating your team on phishing scams and how to recognize illegitimate emails is critical.
6. What have you invested in to monitor machines accessing your data?
Monitoring data access can stop cybercriminals in their tracks and prevent downtime and data loss. Take the time to find and secure a monitoring solution that can distinguish between legitimate and unauthorized machines viewing your business's data.
7. What have you invested in to monitor inbound networking traffic?
Security-savvy organizations invest in 24-hour, seven-day network monitoring. That way, they can detect unusual activity and stop a breach before it creates any significant damage.
Consideration
An un-unified agreement between IT, auditors, security, and leadership is a common but major problem within organizations. It's a dangerous vulnerability. These departments should have processes in place that complement each other seamlessly and automatically. Of course, getting to this point immediately is unrealistic, but there needs to be a mutual understanding of the end goal. At the very least, there needs to be a realistic protection plan with a universally accepted methodology for implementing the process.
"We know that technology has pitfalls. And when it doesn't work quite right, the consequences can be severe. Just imagine what can happen if an automated traffic light flashes green rather than red, if a wing flap on a plane goes up rather than down if a railroad track switches and sends the train right rather than left." – SEC Chair Mary Schapiro
What next?
Here at Ripple IT, we are always security minded. We are guided by our deep belief in performing comprehensive audits, delivering internal education on products and devices, and training staff on best practices. It's imperative that organizations understand and capture the tools they regularly use. More importantly, you must know how to protect these tools. Work with Ripple to manage your organization's infrastructure, make the move to the cloud, and keep security and best practices at the forefront of your mind.



Have questions on how to improve your IT security? Schedule a call with a member of our team!
Don't Fall Behind!
Get the latest work-from-home and Humans First® IT tips straight to your inbox.