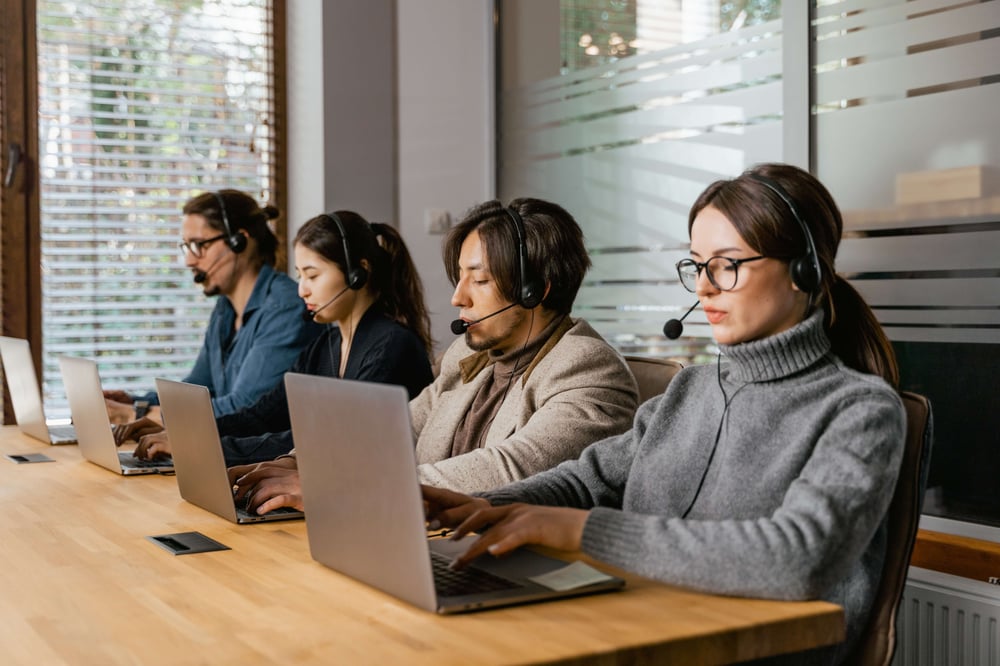 Picture this: It's back to work on a Monday morning, and for one reason or another, you're trying to connect your laptop at your home office. You've tried several times, but you keep getting the same error message. Eventually, you know you need to call for IT support, but your firm doesn't have an official IT team. The only person you can think of is a guy in accounting who seems to know a lot about computers.
When you explain the issue, the best they can do is ask you to bring your laptop to the office to have it checked out. You're thinking how much of an inconvenience this is, and how a trip to the office is going to take up time in your day while also still being offline and missing client meetings. Sound familiar? You are thinking you need a "go-to" person and someone who can support issues remotely.
That is where IT support comes in. In today's environment, technical support demands more than someone in accounting with some computer skills.
So what Is IT Support?
Simply, the term IT support is access to matters regarding technology-related issues that could be both proactive or reactive. IT support exists to provide answers to IT issues that people or businesses may be experiencing. However, in a business setting, IT support goes beyond assistance.
Fundamental IT support may include setup, installation, and configuration of equipment, among other things. Think about how much of our workday relies on technology? Maintenance and support of all IT-related tools and functions is a necessity. That is where IT support services prove a worthwhile investment because they ensure all IT-related functions are working seamlessly.
Responsibilities of IT Support Technicians
An ideal IT support partner should have services to support an organization's networks. For example, technical support specialists can assess, evaluate, and troubleshoot network issues and play the important role of backing up digital assets and maintaining a firm's network. An IT firm will also have support personnel who respond to phone and email requests.
Additionally, engaging such a provider will also allow you to access the services of cybersecurity support specialists. These specialists ensure you meet compliance security standards and secure your data, network, and applications. You can expect any IT support technician to
Develop working relationships with end-users.
Ask questions that will help them diagnose a problem.
Manage all open client requests.
Recommend steps for addressing a particular issue.
Ensure credentialing when adding users to a system.
Train users on the use of specific technology.
Offer necessary support for applications.
Configure network components after installation.
Troubleshoot network and system issues.
Monitor and maintain networks and computer systems.
The nature of technical support an IT support renders depends on a specific entity's needs. That means that some firms may be seeking help-desk support during business hours, while others may prioritize the involvement of IT experts in daily operations. Whichever the case, IT support professionals understand technology and how to fix it as well.
It is also worth mentioning that technical support follows a tiered system. This means that the levels of support align with the expertise necessary to solve the problem at hand. So, the higher the support level, the more the expertise required. Below are some details on the different IT support tiers.
Level 1 Technical Support
Tier 1 support refers to the individual on the other end of an email string, phone call, or online chat who identifies the issue and avails common resolution methods for the problem they handle. As such, the essential role of tier 1 staff is problem resolution. That suggests that they define the issue and gather all the necessary details to resolve the problem.
Inability to solve the issue at this stage prompts those responsible to transfer the problem to level 2 support specialists.
Level 2 Technical Support
One has to have more technical know-how to be a tier 2 IT support specialist because they address issues that a level 1 technician cannot handle. Quite often, end-user issues can be resolved at level 2, and if that proves a challenge, the problem is escalated to a higher tier. However, an issue will rarely go beyond tier 2. In case that happens, the problem is relegated to the developers of a particular hardware or application.
Is IT Support Available to Businesses of All Sizes?
Yes. IT support is no longer a preserve of multinationals as was the case in the past, thanks to enterprise-level IT support. So, the next time you hear enterprise-level IT support do not fall for the idea that this is a service for large corporations with thousands of workers. The reason is that IT support experts can offer their services to enterprises of any size.
On the other hand, your IT needs increase as your business expands and enterprise-level support will come in handy in this case since it is secure, reliable, and scalable to meet the needs of firms of any size. That is possible since entrepreneurs can access software, hardware, and managed services on a subscription basis, which eliminates massive one-time expenses.
Some of the common enterprise-level solutions that companies of all sizes use include such business continuity solutions like location redundancy or backup, such cloud collaboration options like Office 365, as well as CRM software. Note that firms with only a few employees use the same support options and systems as successfully as their huge counterparts.
So, by opting for the subscription model, you only pay for the support services you need, and you can switch to a different subscription when you need to add more features or users. As such, an IT managed services provider (MSP) allows you to access the quality, speed, and efficiency of an IT department at a predictable cost.
Also, outsourcing IT support can help you get the custom team of experts and a virtual CIO that your business needs. That way, you will eliminate the cost of multiple salaries and you will also enjoy peace of mind. The reason is that working with an IT support services vendor allows you to focus on the core operations of your enterprise.
Cybersecurity threats are increasing even as more individuals move from a secure office network to remote locations without adequate security. On the other hand, equipment failure causes technology-intensive operations to suffer costly downtime. However, properly monitored systems facilitate prompt identification and replacement of faulty parts before equipment fails.
Also, a cyberattack can lead to extended downtime right from the time of identifying a data breach to the point of containing the same. Prioritizing IT support services will help you protect your digital assets, which, will in turn, bear a positive impact on your bottom line. You can book a 30 minute consult with our team to learn more about IT support.
Don't Fall Behind!
Get the latest work-from-home and Humans First® IT tips straight to your inbox.