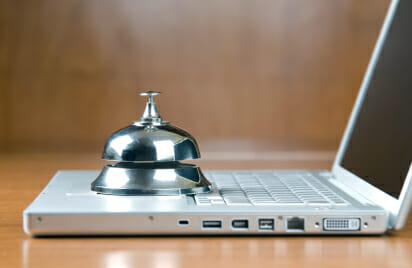 Managed IT is a term familiar to those companies who have it, and those which supply it. Outside of those groups, it might be a little vague as to what the whole "managed" part really means. I've come to relate it to staying at a great hotel (an experience I've had only a handful of times).
We make every effort to anticipate your needs and provide great service, like The Ritz-Carlton. We're on the ball: monitoring your network, running backups, pushing out updates, and thinking about the next step to improve the structure of your IT. And if you find you need help with something, we're just a call away. Extra towels are not a problem.
Being up-to-date on your business is a no-brainer for you, and it's equally as important to us. Since we provide unlimited service, the time we spend helping you won't be "on-the-clock". And you won't have to wait til something goes wrong to justify calling us. Wondering what laptop is gonna be best for that new account manager? Interested in moving your backup to the cloud? We've got resources to help you. Asking our team about these kinds of things won't add to your bill. Yeah, it's a bit like calling the concierge. You've made the investment in great service, and it's our aim as Ripplers to provide that both behind the scenes, and in every personal interaction.
Ultimately, our goals should be in line with yours. And if yours include increasing productivity, streamlining workflows, improving efficiency, and proactively evaluating potential problems, then we are definitely on the same page. It all boils down to this: We're in the business of helping you manage your business… at least on the technology side of things. Doing the work that allows your employees to get their jobs done is our job. So, enjoy your stay, and don't hesitate to give us a call should you need anything.
Don't Fall Behind!
Get the latest work-from-home and Humans First® IT tips straight to your inbox.