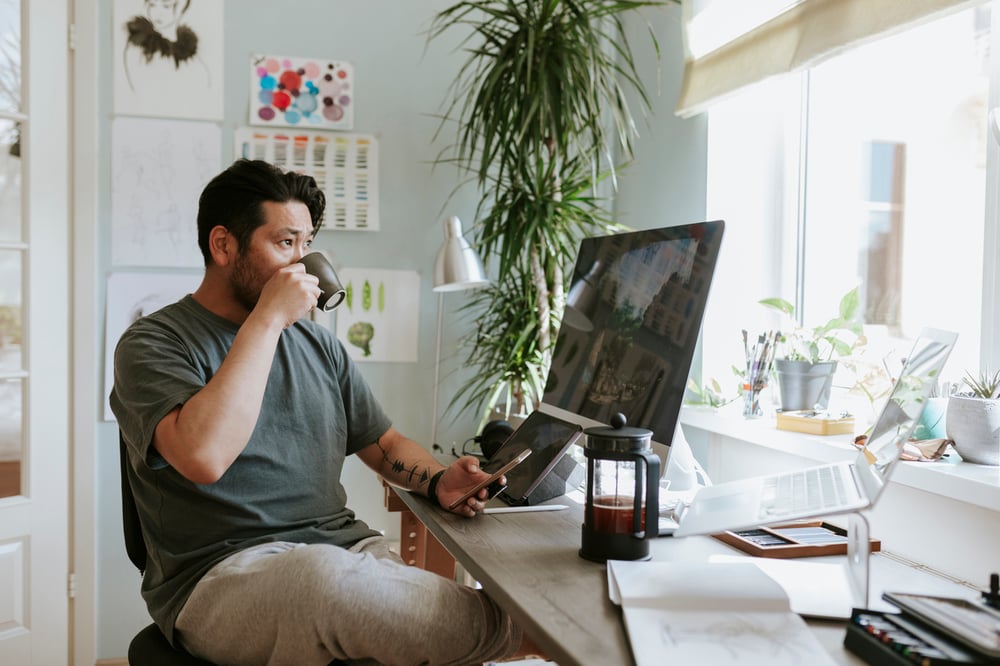 Work-from-home is not a new concept – about 20% of the workforce worked from home either partially or full-time before the COVID-19 pandemic. However, the pandemic made working from home necessary for most companies forced to close their offices. To this end, about 71% of the workforce currently works from home (at least partially) as the world tries to manage the pandemic.
Working from home is here to stay, according to sentiments by about 54% of the workforce. Companies must adapt to survive and thrive in the face of uncertainty.
Your employees should be the focus of your work-from-home strategy, and the best place to start is equipping them with what they need to optimize their productivity. Here is a comprehensive guide on the IT resources and other office components your remote workforce needs for their work-from-home setup.
The Importance of a Proper Work-From-Home IT Set-Up
Working from home is impossible without an efficient IT system. IT facilitates the most essential functions, ranging from communication to collaborating on sensitive projects. In fact, an inefficient IT system is a security risk to your business, considering the rising threat and consequences of cyberattacks and the importance of IT to a company's overall operations and competitive advantage.
An Efficient Computer and IT System
IT technology is the central component of working from home. Employees can do much of what they do in the office with a computer, a reliable internet connection, and efficient virtual office and remote working programs (discussed later). Here is an overview of the IT components your employees need for their work-from-home setup:
Computer
It is difficult to get much done at the office without a computer, and it is impossible when working from home. Ideally, your employees' computers should be powerful enough to support the nature of their work – consider factors such as the computer's processor, storage, and other important specs.
It is also advisable to get a computer optimized for your health and comfort. For example, computer screens emit blue light that can damage your eyes, so it is advisable to get a computer screen protector. Additionally, it is prudent to get an ergonomic mouse and keyboard to keep your hands healthy and comfortable – it can considerably reduce your likelihood of twisting your wrists and developing Carpal Tunnel Syndrome.
A Reliable Internet Connection
A computer doesn't help much without a means of communication, which is where the internet comes in. Access to the internet is necessary to enable communication and collaboration within the workforce. Some of its basic uses are one-on-one communication and transferring files. As such, it is important to equip your remote workers with a strong, secure, and reliable internet connection.
Virtual Office Software Solutions
Working in the office has its advantages. However, virtual technology is becoming advanced enough to replace the physical office (or many aspects of the physical office). For example, employees don't have to be in the same room to hold a conference meeting or collaborate on important projects.
There are dozens of virtual office software solutions. They offer many common features, but some are better than others. Some of their common features and functionalities include:
Team collaboration via virtual co-working spaces
Video conferencing for face-to-face communication
Cloud storage to facilitate the storage and transfer of files
Productivity management enables oversight via tracking tools
It would be virtually impossible to work from home without a virtual office solution (it would be like going back to the stone age, metaphorically speaking). As such, it is important to get one that suits your unique needs and preferences – you may need to get multiple solutions to meet all your needs.
Some of the most popular and efficient virtual office solutions include:


Microsoft Teams
Microsoft is a pace-setter in the remote work industry, and Microsoft Teams is a comprehensive solution designed to fulfill all (or most) of your needs. Some of its most notable components include:
PowerPoint
Microsoft Word
Excel
OneNote
Skype
Microsoft Teams' greatest strength is facilitating close collaboration among users. It is also compatible with many other software solutions.


Zoom
Zoom became a household name after the COVID-19 pandemic because of its popularity as a video conferencing platform. The platform can support up to 100 participants in one video conference, and it offers HD video and audio quality for clarity.


Slack
Slack's main feature is real-time communication via models such as video conferencing, voice calls, and instant messaging. It is especially popular for its automatic archives, whereby users can choose to record past communications for future reference. Additionally, users can record their notes via a newly unveiled voice feature. Notably, Slack is the communication tool of choice for NASA, which often exchanges sensitive information.


Google Suite
Google Suite aims to provide a comprehensive range of virtual office and remote working solutions. Some of its most notable components include Google Drive, Gmail, Google Docs, Calendar, and Google Meetings. To this end, it facilitates a wide range of uses, including one-on-one communication (video, voice, and text messaging) and collaboration. It is also compatible with many other remote working tools.


Dropbox
The cloud is central to most virtual office solutions' file storage and transfer, and Dropbox is the best cloud storage platform. Dropbox offers as much storage space as you would need and an efficient system to share and collaborate on files with other users. Most importantly, the platform utilizes the latest cyber-security solutions, making it ideal for sharing sensitive files.
Reliable Cybersecurity Solutions
Cybersecurity was a big problem even before the COVID-19 pandemic, resulting in millions of dollars in losses for businesses. It has become even worse today because of the increased reliance on IT to facilitate working from home.
A cyberattack costs the average business about $200,000. Additionally, the fallout from a malicious cyber attack (such as losing users' private information) can easily cripple or kill small businesses. As such, it is important to implement an impenetrable cybersecurity solution for your work-from-home employees. Here are some tips to help you set up your cybersecurity foundation:
Set Clear Cybersecurity Policies
Every employee forms a link in your metaphorical cybersecurity chain. Consequently, one ignorant or uninformed employee can compromise your company's entire IT system.
As such, it is important to enlighten your employees about the importance of cybersecurity. It is also important to teach them about common cyberattack methods and how to prevent or repel them. Additionally, set clear cybersecurity practices and policies about how your employees should use the company's IT systems. For example, you should mandate good password hygiene, as discussed below.
Implement Segmentation
It is important to restrict non-essential activities (such as browsing social media platforms) on your company's IT systems or devices. It is also important to restrict access to these systems and devices only to your employees – other family members may likely use these devices. As such, IT professionals recommend an efficient segmentation strategy.
Set Strong Passwords
Hackers often try to access systems and devices by cracking their passwords. As such, it is advisable to set complex passwords for your employees' devices and systems. It is also prudent to change these passwords regularly. Besides strong passwords, experts recommend multi-factor authentication whereby only you (or the employee) can authorize access to the device or IT system.
Encrypt Messages
One of the main goals of every hacker is stealing the company's data. They can do this by hijacking data transfers every time one of your employees sends a file or message.
As such, it is important to encrypt your messages before sending them. Encryption works by essentially turning the message into gibberish, whereby a recipient can only decrypt the message using an authenticated decryption key. It is reliable and easy to implement.
Install Antivirus Software
Hackers often use computer viruses and malware to hack and take control of their victims' IT systems. This is a global problem, as highlighted by the global WannaCry ransomware attack of 2017. As such, it is important to install and regularly update reliable antivirus solutions on all your employees' devices.
An Overall Comfortable Working Environment
Working from home is not entirely ideal. For starters, employees have to deal with many distractions and disruptions from family members. Additionally, working from home can be monotonous and tiring as employees lose track of time and mix work and personal lives.
As such, it is advisable to facilitate an overall conducive and comfortable working environment. Some of the suggestions to offer your employees may include:
Getting a dedicated working space where other family members will not interfere.
Getting an ergonomic desk and chair to keep their backs and necks comfortable while working.
Using proper lighting, preferably natural lighting.
Setting clear schedules on when to work and when to rest.
Exercising regularly and observing a generally healthy lifestyle.
Is your work-from-home strategy inefficient or in disarray? It is important to seal all loopholes to keep your IT systems secure and your workforce productive. Ripple IT offers a comprehensive range of IT services to ensure that your entire IT system works smoothly. Book a 30-minutes consultation with our team of experts to learn more!
Don't Fall Behind!
Get the latest work-from-home and Humans First® IT tips straight to your inbox.