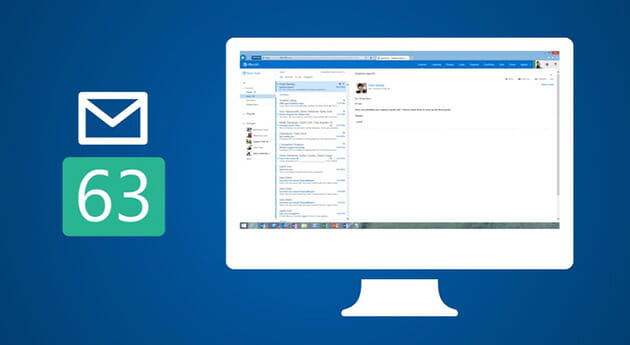 The Clutter Experience
If you're like most people, you have too many projects, too much data, and not enough time. With everything coming through all at once, it can be hard to tune out the noise and focus on what's truly important. Microsoft hopes to remedy this issue through the use of Office 365's Clutter feature.
Clutter acts as your own personal assistant by moving less important emails out of your inbox so that you can stay focused on the important things. To do this, Clutter learns the way you use your email and moves messages with lower priority out of your way and into the Clutter folder.
Helping More People Benefit from Clutter
Recently, Microsoft announced that Clutter would be turned on by default for Office 365 users starting June 2015 so that more people could benefit from Clutter. The change will affect users in a few different ways, but they'll still have the ability to turn Clutter off if they choose.
Users who haven't yet turned Clutter on will have it turned on, while those who initially turned Clutter on and later turned it off will continue to have it turned off. Additionally, if the account administrator had previously turned Clutter off on the user's behalf, the user will continue to have Clutter turned off.
In addition to changing Clutter's default mode, Microsoft will be rolling out new administrative controls and alerts to improve how Clutter interacts with users.
New Alerts
Clutter's existing inbox notifications will be replaced with alerts and summary notifications sent when the feature is at work. Alerts are sent when new types of emails are moved to Clutter for the first time, with a maximum of one alert per day. There's also a summary notification sent once per week to demonstrate all that Clutter is doing for you.
Users who have already turned Clutter on will continue to have Clutter on and will begin receiving the new notifications (automagically!). Here's a peek at what the new alert notifications look like: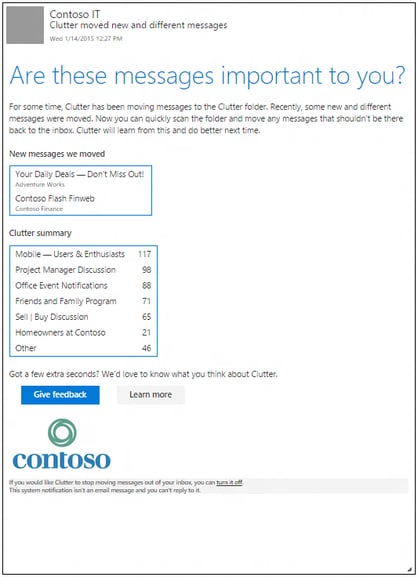 New Admin Controls
Available for use today are two PowerShell cmdlets that allow admins to turn Clutter off for users, as well as report on how the feature is used for each user. The update also allows account admins to setup a reply-to address for Clutter notifications, in addition to the existing personalization options (like changing the sender display name).
Admins will continue to be able to brand the message with a logo of their choice, allow organizationally critical messages to bypass Clutter, and apply a default retention policy to the Clutter folder.
De-Clutter Your Life!
It's that simple. The less important messages are moved to the Clutter folder, where they stay out of your way until you have time to review them (if you choose to). You can help Clutter learn your email habits by marking items as Clutter or moving items out of the Clutter folder and back to your inbox.
Clutter will adapt to your new patterns within days when you begin working on new projects or take on a new role. Messages moved to the Clutter folder will be out of your inbox view, yet still readily accessible if needed.
Clutter is already moving over one million emails per day, saving users 82 minutes per month on average! If you're an Office 365 user, give Clutter a try and see how much time it could save you…you might even have time for an ever-elusive nap (you can thank us later)!
Don't Fall Behind!
Get the latest work-from-home and Humans First® IT tips straight to your inbox.