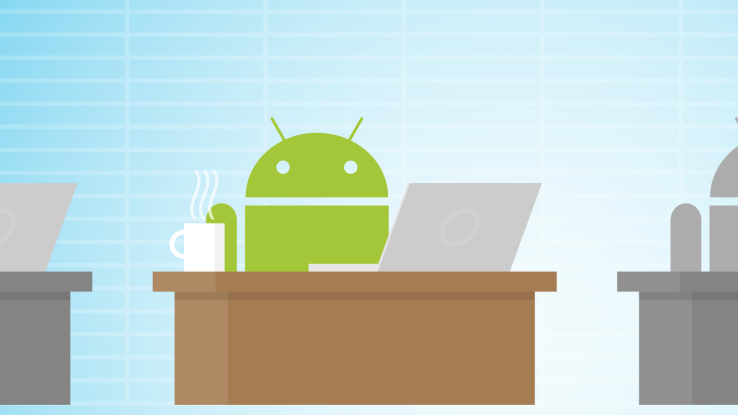 Does Your Business Run on Android?
Most people use their smartphones or tablets as essential tools to help complete important work tasks like checking email, editing documents, and approving deals. But for the majority of users, smartphones and tablets are vastly underutilized in the workplace as their business and innovation potential remains largely untapped.
Google hopes to take advantage of that potential with the introduction of their Android for Work program. Android for Work will help businesses manage the way employees access sensitive data or apps on their smartphones, known commonly as mobile device management (MDM).
Using Android for Work will transform smartphones and tablets into business-ready productivity tools by offering built-in business apps, as well as a slew of IT capabilities. Android for Work features four key technology components: work profiles, the Android for Work app, Google Play for Work, and built-in productivity tools.
Here's a closer look at what Android for Work has to offer and how it can help your business, as described by Business News Daily: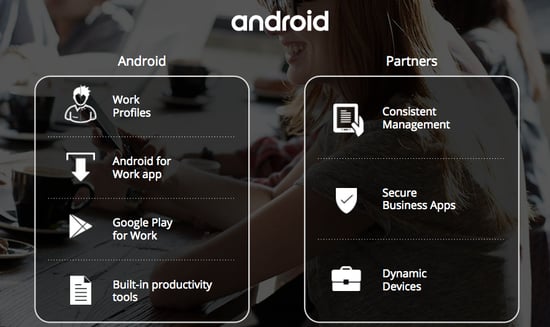 Work Profiles
Work profiles keep your work data and your personal information separate, so you can keep using the same device without worrying about combining the two environments (work and play) or undermining security. This feature isolates and protects work apps and files using Android 5.0 Lollipop's default encryption technology, enhanced SELinux security, and multi-user support.
You can rest comfortably knowing sensitive work data will remain secure, as well as knowing your employer will only manage work data and won't erase or view your personal content. (Phew!)
Android for Work App
If your Android doesn't run on Lollipop (Android's most recent OS update), that's no problem! Google has created the Android for Work app for devices running Ice Cream Sandwich through Kitkat (Android 4.0 and later). The app can be completely managed by IT and delivers secure mail, calendar, contacts, documents, browsing and access to approved work apps.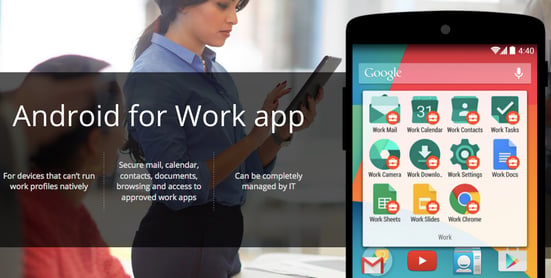 Google Play for Work
Google Play for Work securely distributes and manages apps in your company from a central hub. In order to deploy apps from Google Play for Work, you must be running Android for Work on your device. This simplifies the process of distributing apps to employees and ensures IT approves every deployed app.
Built-In Productivity Tools
Android for Work will help to keep you productive with its built-in tools. Google has created a suite of business apps for email, contacts, and calendar. These apps also offer support for document, spreadsheet, and presentation editing, as well as Exchange and Notes files.
Partnerships That Amplify IT Management
Google worked with a large number of partners on the Android for Work project. Tech Crunch explains these partners will be able to tap into Google's APIs for this service to integrate their enterprise mobility management services with Android for Work. Furthermore, software vendors will be able to create a single Android version of their business apps and deploy them securely to any Android device without the need for an additional security wrapper.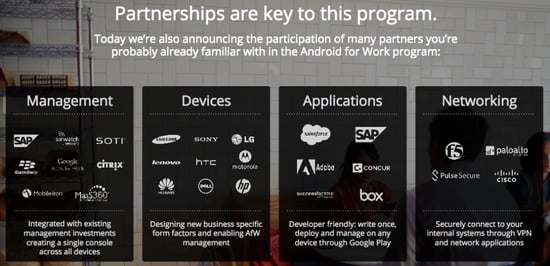 Android is Ready for Work
Overall, the idea is to make the Android ecosystem more attractive to enterprises. As Google argues, the mobile enterprise market remains largely untapped and there are billions of devices out there that employees bring to work but can't actually use to get work done.
By making Android for Work part of Google Apps and bundling in MDM, Google is making both Android and Google Apps a better deal for businesses of all sizes. Now, let's all put Android to work!
Don't Fall Behind!
Get the latest work-from-home and Humans First® IT tips straight to your inbox.