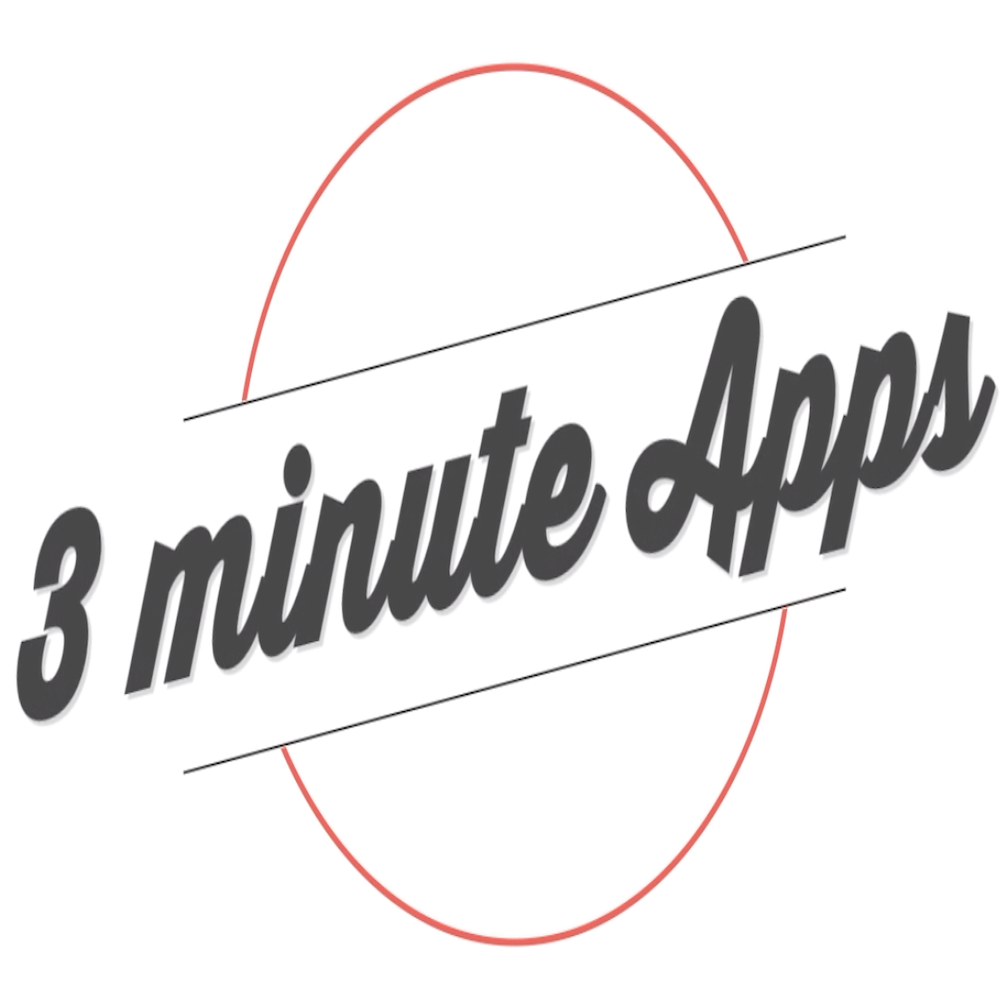 This weekly podcast is centered around simple, elegant and secure tools that increase productivity and help streamline workflows… all in less than three minutes

Topics:
Online Learning, Free EBooks, Create Charts Online, Calendaring Made Simple, Record your iPhone, Save Articles, Record your Screen, File Sharing, Share Screenshots, Cut the cord, 2FA Made Simple, Get Googled, The Best CRM and Marketing Tool, Store all your business videos, Make Video Ads and Graphics, Project Management done right, The best VoIP, Manage Professional Development, Video Conferencing Done Right, Slack, Password Management, Automated Annotation, Edit Office Docs in Chrome, Whiteboard like a boss, Mind Mapping Made Easy, Password Protection, HubSpot Mobile, Don't PM from a Spreadsheet , Best Audio for Conference Calls, Google's Data Loss Prevention tool, Killer Keyboard and Protect your Phone.
GBoard: Three Minute Apps
Enable the power of Google search directly from your keyboard. GBoard lets you share restaurants nearby, locations, contacts, and even personalized GIFs to cheer up your colleagues. It's loaded with features so check it out! Android: https://r.ippl.it/2H0tc7Z iOS: https://r.ippl.it/2Uhcjcd
Google DLP: Three Minute Apps
Google's Data Loss Prevention (DLP) capabilities helps protect your organization from sharing and storing sensitive data. DLP for GMail, DLP for Drive, DLP live demo, DLP Drive demonstration
Krisp: Three Minute Apps
Machine Learning at its best! No more dogs barking, babies crying, construction hammers hammering, or big city noises ruining your important phone calls. Best part is it's 100% secure as the audio stays on your machine. Try Krisp for free now!
Stop PM'ing from a spreadsheet and get Smartsheet. Easily assign team members, see your progress in gantt chart form, set up intuitive alerts and automation without the hassle of complex formulas. Integrates with all the tools you already rely on!
The HubSpot mobile app shows you everything you need while on the go. Contacts, Analytics, Sales progress, and access to your Chat Bots! Available on both Android and iOS, you can snap business cards from events and automatically have them stored in HubSpot.
Check out our Three Minute Apps on HubSpot
Google put together a free Chrome App to monitor your passwords for non-Google websites. If the password has been exposed, Password Checkup will alert you and prompt you to change the password. Here's the link to add the extension.
Mindmeister is an online mind mapping tool that allows you to take all of the messy thoughts in your brain and turn them into an easy-to-read format. Work in real time with your team. Create quick presentations. Revert to older versions. Check it out!
Google Jamboard is a 55-inch, 4k display is the whiteboard for the modernized office. Stop taking out your camera to save your whiteboard. Works on the web, phone, tablet, or Jamboard device. We talk about how you don't even need a jamboard to get jamming!
If you're a G Suite, Chrome, or Chromebook user and work with folks that depend on Microsoft Office formats, there's a lot more that can be done in Chrome. Simply drag and drop Word, Excel, or PowerPoint files into any Chrome browser to edit, view, save, or convert the file! You can even create a Word, Excel, or PowerPoint file within the Chrome browser.
Meet EVA by Voicea. EVA is a virtual note taking assistant that integrates with all the top video conferencing tools and your favorite productivity apps. Stop having one team member less involved from taking notes. Let EVA do the heavy lifting.
LastPass: Three Minute Apps
Easily Access All Passwords in one simple to use portal! Share credentials with your family or colleagues -and even decide to hide the password so they can't copy it! LastPass will store, save, and generate passwords for you. Also, create encrypted notes for those must store and keep secret items as well.
Libby: Three Minute Apps
Libby is an app created by the folks at OverDrive. If you have multiple library cards and want easy and intuitive access to their book and audio catalogue, Libby is a win. Even better, you can send your books directly to your Kindle as well. It's all free!
Are you looking for a place to quickly and easily turn your whiteboard processes into an editable, shareable, reality? Check out Lucidchart. They've figured out the right way to do diagrams in a simple, elegant, and secure way.
Whether you're looking to improve on a skill, take the next step in your career, or just learn something fun and interesting, there's a slew of online applications available to you.
The Top 3: Lynda.com, udemy, coursera Looking for tech training? Google, Microsoft, AWS, HubSpot!
Online Learning: Three Minute Apps
Whether you're looking to improve on a skill, take the next step in your career, or just learn something fun and interesting, there's a slew of online applications available to you.
The Top 3: Lynda.com, udemy, coursera Looking for tech training? Google, Microsoft, AWS, HubSpot!
Reflector: Three Minute Apps
On this episode we talk about Reflector. You can mirror your phone, tablet or computer to the big screen without wires or complicated setups. Super easy, super simple, and elegant!
Pocket: Three Minute Apps
When you're inundated with awesome content (videos, photos, and articles) but keep forgetting or don't have a single place to store it, Pocket has the answer. This is a way to sync, save, and store all the great content that folks share with you.
Screencastify is a free Chrome extension that lets you record chrome tabs while also capturing webcam videos. This is a great tool to record quality audio directly from a Chrome tab.
Companies that use Google Drive extensively enjoy the ability to have users work with files anywhere, anytime, from any device, without having to rely on clunky remote access solutions or unsanctioned personal file sharing accounts to get the job done. Furthermore, Drive is an extremely cost-efficient solution and is fully integrated into the G Suite platform, making a Drive deployment an ideal alternative to costly and cumbersome file server infrastructure.
CloudApp: Three Minute Apps
CloudApp
is a tool that lets you record video (screen or webcam), GIFs, and annotate screenshots. CloudApp creates a simple and easy way to share recordings in order to help your clients and colleagues get answers to their most common questions.
Need to stream TV at your office? For a special gift giving episode of Three Minute Apps, we talk about Amazon's Fire TV Recast. It's a DVR that lets you watch and record over-the-air TV at home with Fire TV or Echo Show, or on-the-go with a compatible mobile device—with no monthly fees. Here's the best part, IT WORKS!
Google My Business is simple and elegant tool accessible on either your desktop or phone to manage your online presence across Google. This helps your clients learn and understand the message you want them to know!
Good stuff
.
Wistia: Three Minute Apps
Wistia is a video storage and editing suite that lets you keep all of your videos in one place. Wistia creates the link you need depending on where you want to share it. For example, publishing to social, pasting in your social media manager, or having the video appear in your MailChimp or HubSpot campaign. Get the results you're looking for. Very easy to understand analytics!
Good stuff
.
Authy: Three Minute Apps
The Authy app is a free Two Factor Authentication (2FA) code generator tool. No ads. No in-app purchases. Just a super simple, elegant, secure tool made by the good folks at Twilio. Want more security tips?
Check out our free security best practices guide!
Make a promo video, flyer, or even a landing page with Adobe Spark. Adobe lets you upload your logo and add all of your brands colors to make for a simple, elegant, and secure way to share the word of your organization.
HubSpot: Three Minute Apps
Marketing Automation; Website & Ad Analytics; Fully customizable CRM; Blog and Website publishing; Endless Educational Content on Marketing and the Inbound Philosophy; Video integration; Social posting & Analytics… That's HubSpot.
ASANA: Three Minute Apps
Asana is a project management tool that is available on the web and any mobile device. We talk about three key features in less than three minutes! Learn more about ASANA here.
Dialpad: Three Minute Apps
Dialpad is a pure-cloud business communication platform that's in tune with the way your team works today—whether it's from the back of an Uber, in line for a coffee, or flying over the Atlantic. Try it for free: https://dialpad.com/signup
Lattice: Three Minute Apps
Although it can be challenging and a lot of work to find the right staff, it can be equally challenging to keep them. Today we're going to talk about Lattice which is a performance management tool that lets your team, your management, and leadership organize what is expected of them and understand how they're performing.
We've tried just about every option when it comes to conferencing solutions. From GoToWebinar, BlueJeans, Amazon Chime, UberConference, and Google Hangouts, we've tried it all. We've landed on Zoom. It's our recommended best is best conferencing tool. It just works and eliminates most of what sucks about meetings. Nothing is perfect, but Zoom is damn close.
Slack is a central hub for most (if not all) of your day-to-day business communication. If utilized correctly, project meetings, water-cooler discussions, and office announcements will become less time consuming. From dragging and dropping files or links to performing quick searches relevant to project ideas, it's a very solid attempt at reshaping how we communicate outside of email and chat.
On an iOS device, you can open the app that you want your little one to use and then triple-click the Home button (side button on iPhone X) to make sure other apps aren't accessed. No need to worry about your biz apps being accessed!
Want to see the Macy's Thanksgiving Day parade in person or get an unbelievable experience from the couch!? Here's some fun tips such as the parade route, hotels along the way, and some more fun info!
Prefer to listen?

Don't Fall Behind!
Get the latest work-from-home and Humans First® IT tips straight to your inbox.