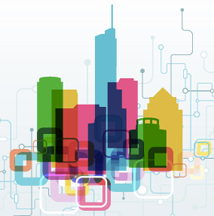 Calling all small to mid-sized companies in New York City!
With a name like "Fiber Challenge" it might be easy to dismiss ConnectNYC's contest as an all-bran bonanza. But the real story behind it is much more appealing. From now until November 27th, small and mid-size commercial and industrial businesses across New York's five boroughs are invited to compete for free fiber wiring. Companies that "demonstrate the highest potential impact of fiber connectivity – on their own business, nearby businesses, and underserved areas – will become finalists." The finalists will then have a chance to win a free build-out of fiber internet connectivity for their business. And with the average cost of a build-out being approximately $50,000 per business, that's one heck of a prize.
To enter, businesses must obtain a signed landlord agreement providing ISPs with access to the building if they win. If chosen, contestants will be required to sign a one-year service contract with a participating ISP at negotiated market rates before they receive a free fiber build-out. All the info can be found on ConnectNYC's official contest website.
Don't Fall Behind!
Get the latest work-from-home and Humans First® IT tips straight to your inbox.