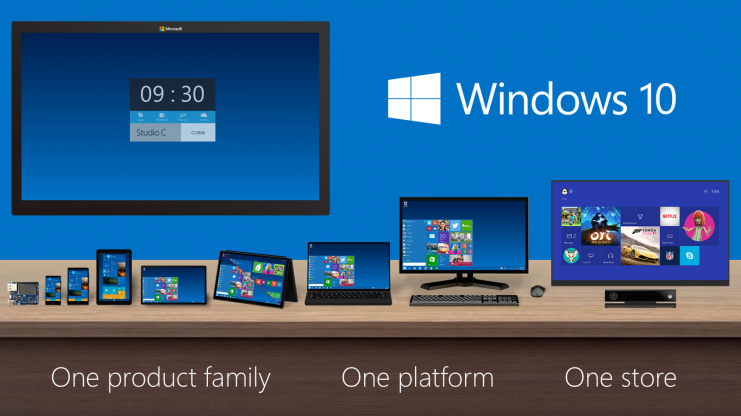 The buzz of Microsoft's leap to Windows 10 may be starting to die down, but the big, 640-million-user question remains: If you hated (or just plain ignored) Windows 8 because of the drastic changes in the look and feel, should you think about upgrading to Windows 10? Good news for Windows 8 haters: many of the features in Windows 10 aren't nearly as maddening as those found in Windows 8.
1, 2, 3, 95, 98, 2000, ME, XP, Vista, 7, 8, 8.1, 10!
Since the dawn of Windows 8 in 2012, the folks at Microsoft have worked hard to woo users with 8's fancy features. The only problem? Microsoft ditched the traditional features that users loved for a flashy, touch-friendly look and feel. The move was so extreme, it ended up scaring away both consumer and enterprise users.
While you can't blame them for trying something new, it's obvious that it's time to give people what they've been waiting for. It looks like Microsoft is ready to do just that with their new version of Windows: Windows 10. In late September, Microsoft announced Windows 10 with a sneak peek of how the new OS will look and feel, as well as a technical preview for desktops.
It's definitely still too early to judge whether Windows 10 can live up to its hype. But there have been a few noticeable differences in Windows 10 that will appeal to consumers and enterprise users alike.
Introducing Windows 10
We've laid out five of the top reasons why Windows 10 looks like a winner for PC owners, as described by Yahoo Tech. But be prepared to wait…users won't be able to get their hands on the final version of Windows 10 until 2015.
1. The Start button is back! The start menu is back and possibly better than ever. This new Start menu is a blend of old-school Windows 7, with the modern vibes of Windows 8. In Windows 10, shutting down is back to being one easy click away.
2. The desktop returns. In Windows 8, the emphasis was clearly on getting users to the tile-based Start screen. Windows 10 puts the desktop back in its proper place, greeting you as soon as you start up your computer. As a matter of fact, the touchy-feely Windows 8 Start screen has been completely removed from the PC version.
3. Continuum mode. Microsoft hasn't completely axed the Start screen interface; it will still be available to people who own 2-in-1 laptop-tablet hybrid computers. For example, if you have a Surface Pro 3, Windows 10 will run in tablet mode (emphasizing the Start screen). However, when you connect the Surface's keyboard attachment, Windows 10 will switch over to desktop mode and all the features it includes.
4. Windows apps. Although the apps Microsoft introduced in Windows 8 were beautiful, you could only use them on the Windows 8 Start screen. Windows 10 changes that, allowing users to open and use Windows 8 style apps on the traditional desktop. Even better, the apps no longer take up the whole screen because they run in actual windows, meaning users are able to move and resize them as much as they want.
5. Task view. Window's 10's new Task view is similar to the Mission Control feature found in Apple's OS X. From Task view, you can open multiple desktops, each with their own apps. On top of that, when you move your pointer over a desktop, you can see what apps are running on it, without having to search each desktop to find where you last left off.
On The Horizon
Sounds exciting, right? We'll be on the lookout for a technical preview for servers, as well as previews of other device categories within the next few months. While Microsoft has yet to announce the official release date of Windows 10, speculation is that the OS will launch sometime mid-2015, after Microsoft's Build conference.
Windows 10 appears to be well on its way to righting the wrongs of its predecessor. But there is still a long way to go before this OS is finished. We've barely begun to get into all that Windows 10 has to offer, but so far it appears that Microsoft is on the right track!
Have more to add to this post? Leave it in the comments below!
Don't Fall Behind!
Get the latest work-from-home and Humans First® IT tips straight to your inbox.