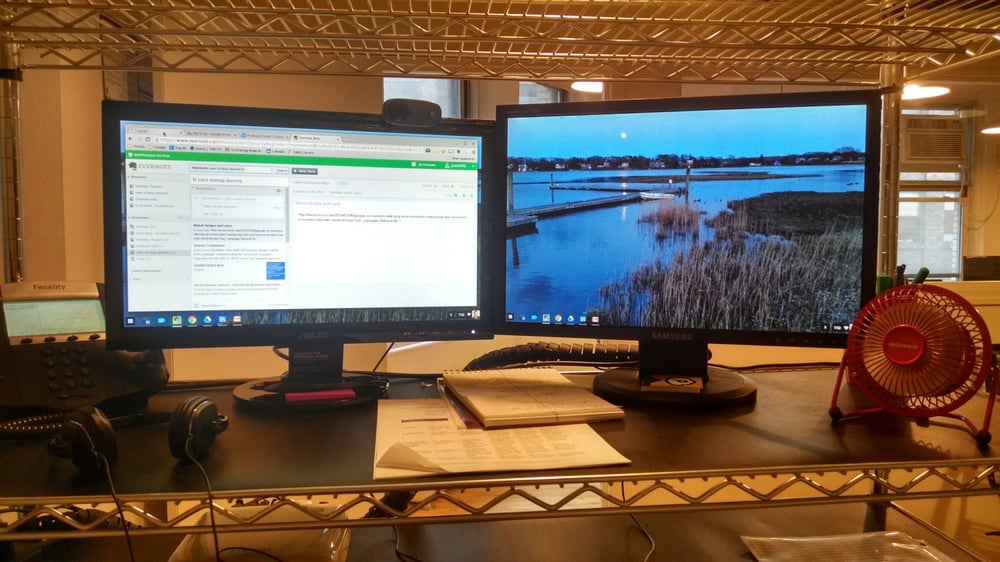 Overview.
This was a four month experiment. I made the decision to use close-to-nothing but Chrome devices at the office. I do own a MacBook Air but decided to only use it if, and only if, my Chromebook will not complete the task. In a previous experiment, we tested if the iPad can replace a laptop.
If you'd like to know the quick and dirty… My Mac's been sitting in my backpack for weeks!
Chrome-what?!
If you're unfamiliar, Chrome devices are low costing computers designed specifically to access the internet and authenticate users through a Google account. Still lost? Check out this video to get a better understanding of Chrome as an Operating System (OS). As for the specific models, I've been bouncing from a Samsung Series 3 Chromebox at my desk (see picture) and a Chromebook Pixel for mobile use. I even played around a bit with an older Samsung Chromebook with 3G just to test out accessing Drive, GMail, and Calendar while on the bus. Amazingly enough, all of the devices worked flawlessly. Unlike comparing an old laptop to a newer model, the difference between the two proved to be minimal. I had the same user experience and was able to quickly access my information. (Duh tip: try installing Chrome on an old XP machine and get the same results!) I'm certain if you ran speed tests you'd see some conflicting data, but for my general use (mail, contacts, calendar, chat, file storage and creation) the experience was parallel. To note, if you've ever had an old laptop fail (along with your mydocs & desktop files), Google Drive could easily replace your file server! Click here for more info.
The first week of being Chrome only was the toughest. But this was by no fault of Chrome. IT WAS 100% ME. In fact, I think this is the genesis to any resistance of making the transition to Chrome OS (or any technology change for that matter) -it's personal. People love their devices and the thought of abandoning what they're used to is a lot to ask for. The question I had to ask myself was: WHY?!
Once I got over myself I quickly realized that not much (if anything) really changed between my love affair with Apple vs these Chrome devices. This is because I live, breathe, function, and depend on Google and Web-based apps.
Daily Use.
To get more to it, here's a breakdown of what I depend on daily regardless of what machine(s) I'm accessing (I added links for more info if you're interested):
Weekly Use.
Fun is Important.
Additionally, here's some apps I use everyday for pleasure:
In short, there's NOTHING I access daily or weekly that requires more than Chrome. Sure, there we times I longed for my Mac, but it was likely just the missing comfort of seeing the Apple logo on the back of my machine. I haven't lost anything. The folks at Mountain View are right, Work has Gone Google
Convinced yet?
A great and pertinent example occurred while composing this post. A customer reached out to me and explained he was having difficulty opening a large Excel spreadsheet that was sent to him.
From my Chromebook I was able to take screenshots and insert the images into a GMail message showing him precisely how to view or even edit the Excel spreadsheet (which opened perfectly -he just needed a little help in understanding Google's simple process of viewing many, many different file types. (Note: Since I started this post, Google released Apps for Work which expands the integration of Google's abilities to read and write on Microsoft files substantially. I get into this later on)
It can't all be warm and fuzzy
To keep this fair and balanced, I recognized I've been touting to the hilltops all the things that are excellent about Chrome. There are some functionalities in Chrome that are lacking. For me, the number 1 issue is access to webinars. The folks at Citrix are making great strides by working on releasing GoToMeeting & GoToWebinar via a browser. They've already rolled out an app in the Chrome Webstore. Unfortunately, if you're an organizer (like I usually am) for a GoToWebinar, you'll need a Mac or PC. Citrix has addressed this is top-of-mind but is not quite ready to be pushed out. I hope soon! A solid alternative is to host a Hangout on Air like we did both on Google Drive and thinking Beyond GMail. But, if you're joining a webex or GoToMeeting/ GoToWebinar, you're likely out of luck today.
What would Window's Do?
Another issue relates to applications that require a Window's machine. This did not directly impact me but certainly will for several organizations. Both vmware and Citrix already have Virtual Machine (VM) or Desktop as a service (DaaS) solutions available. Take a look at those previous links as recommended options if it applies to you. Google is also running some gracious discounts on relating to XP's end of life which makes Google Chrome all the more enticing today. Furthermore, many organizations (Amazon to name one) are making a big push for VM/ DaaS and Chrome is part of the delivery.
Offline.
It's a huge issue, right?! How do you function on a device designed for the internet without an internet connection?! Last week I was taking meeting notes on my Pixel. One of the prospects happened to notice the device was unfamiliar looking. He smiled and curiously asked if he could "play" for a minute. He took a look at the document I was editing, clicked around, and looked at my calendar. He was pretty convinced this was a nice device and found the UI was very intuitive. Why? Because it was familiar! There are millions of students and teachers already using Google Apps. Your future hires already know how to use this stuff -and expect it! I also explained that lower costing models are just as quick and the experience would essentially be nonexistent. What's the catch? I was not connected to the internet. He played around with the device and I was taking notes without any internet connection. 🙂 Google's offline capabilities are quite remarkable -you can even create a presentation without an internet connection: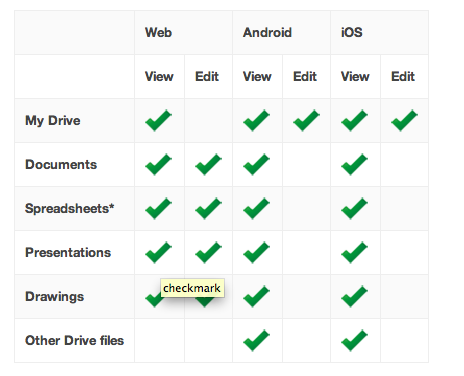 And many other applications are following the trend! Let's summarize the experiences…
Cons.
Webinars are still a problem today and Virtual Machines are expensive in almost every case (read:Chrome or no Chrome). Organizations like Amazon, vmware, and Citrix are working to take ownership of the market, so keep an eye out for some very competitive pricing. However, it's all a work in progress.
Pros:
Let's face it. If your organization is using G Suite, there's no reason a significant percentage of employees can't fully function in Chrome. If you work with companies that are not on Google (which I do every day) I challenge that Chrome is sufficient -if not better! Google provides a platform that enables me to access, create, and share everything that relates to my organization. And it's extremely affordable too.
Worth Repeating: Google's G Suite Business is a GAME CHANGER!!!!
Now that G Suite Business has been released, the conversation for using Google exclusively just skyrocketed! In particular:
"Some of the most common file types stored in Drive are Microsoft Word, Excel® and PowerPoint® files. We've now built the power of Quickoffice into Docs, Sheets and Slides, so you can open and edit those documents in their native format using Office Compatibility Mode directly on Android and Chrome browser today, and coming soon to iOS. No need to buy additional software or decide how to open your file. Editing Office files is just a click or tap away from Drive on your computer, tablet or phone." –Google Drive Blog
CIO had some great coverage on the QuickOffice integration as well…
"Quickoffice, which Google acquired in the summer of 2012, is now fully integrated with Google Drive. That means Drive users can view and edit Microsoft Office documents, spreadsheets and slideshows with Drive using the new Office Compatibility Mode. Drive users can now edit Office docs on Android devices and within their Chrome browsers on any device. (Google says Office-doc editing is coming soon to its Drive iOS app.)

Data stored in Drive is also now encrypted while in transit and on Google servers, according to the company. New e-discovery and auditing controls help address enterprise compliance concerns. Google says Drive now has a SSAE 16 / ISAE 3402 Type II, SOC 2-audit, ISO 27001 certification, adherence to the Safe Harbor Privacy Principles; it can also support industry-specific requirements such as HIPAA. And new admin features give IT more control over users' Drive storage accounts." –CIO's Al Sacco
What's next for me? Well, I'm sticking with it. Let's see how much will change once I'm over 100 days in! If you'd like to shop around for yourself, I'd check out Google for any specials.
Don't Fall Behind!
Get the latest work-from-home and Humans First® IT tips straight to your inbox.