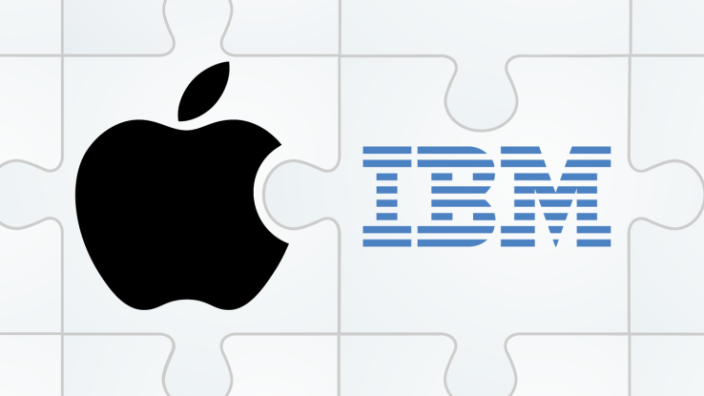 MobileFirst for iOS
IBM and Apple first announced their partnership in 2014, to the surprise of many. Upon making the announcement, Apple explained the companies would use the partnership to produce apps that would change the way businesses work using iPhones and iPads; thus, allowing companies to achieve new levels of efficiency, effectiveness, and customer satisfaction.
The partnership launched their first ten enterprise apps in 2014 through their MobileFirst for iOS initiative. But you won't find these apps in your App Store; Mashable explains these specialized apps are designed for businesses and work directly with IBM's industry-centric analytics and cloud-based services. According to IBM, the apps will also have baked-in security that spans across the apps, data, and the iPads and iPhones themselves.
Eight New Enterprise Apps Released
Recently, the partnership released eight new enterprise apps, bringing the total MobileFirst app count to 22. Half of the new apps are related to the healthcare industry, with the remaining new apps focusing on the retail, insurance, travel, and industrial products industries.
Here's a peek at the functions of each new app, as explained by Tech Radar:
Hospital RN for iPhone.
Hospital RN for iPhone uses Apple iBeacon technology to allow nurses to access patient records from any location in a hospital, freeing staff nurses from multiple pagers and phones.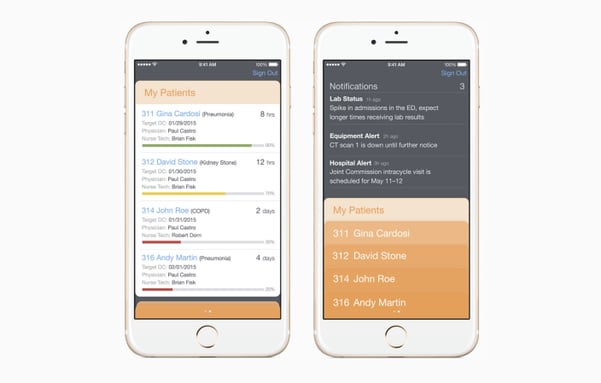 Hospital Lead for iPad.
Hospital Lead for iPad assists charge nurses in managing their ward effectively, while allowing them to assign tasks with a tap of the screen. Prioritized task lists allow issues to be reported, delayed, or marked complete.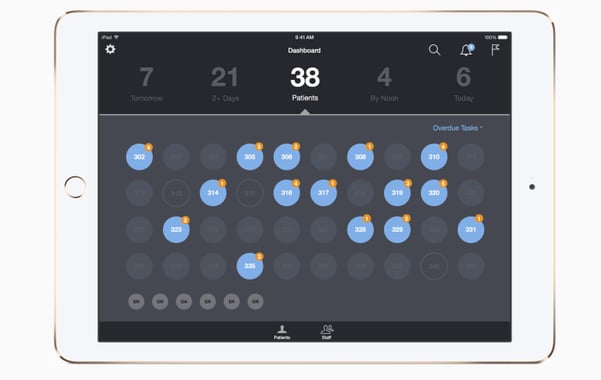 Hospital Tech for iPhone.
Hospital Tech for iPhone enables nurse technicians to keep a close eye on their care teams so that patient tasks can be completed quickly and safely, and help is always a swipe away.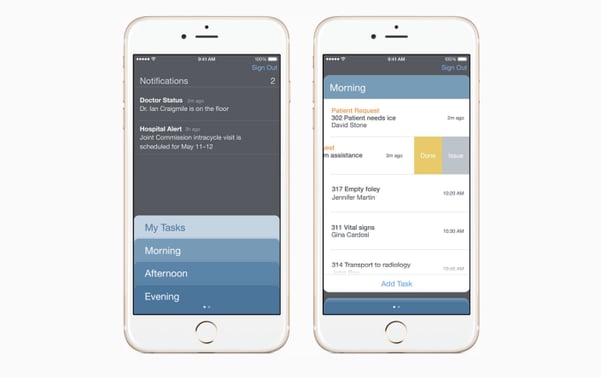 Home RN for iPhone.
Home RN for iPhone allows nurses to deliver better quality of care outside the walls of the hospital by enabling nurses to add extra details to patient files in the form of photos, video, audio, or text notes. Push notifications to the patient's care team allow the patient's progress to be shared quickly and simply.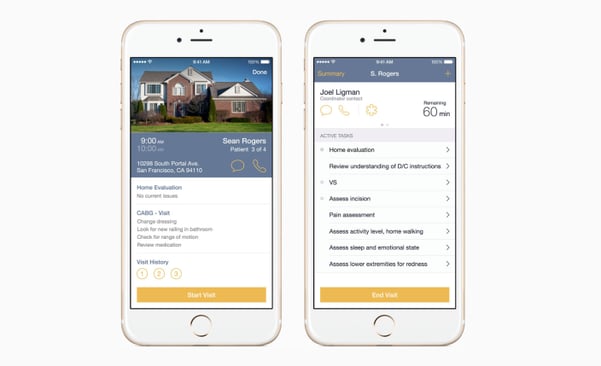 Rapid Handover for iPad.
Rapid Handover for iPad allows a factory foreperson to document and share critical data like production goals, equipment maintenance, crew lists, and more with incoming shift members. The photo and dictation capabilities on the iPad can capture issues like broken equipment and safety hazards.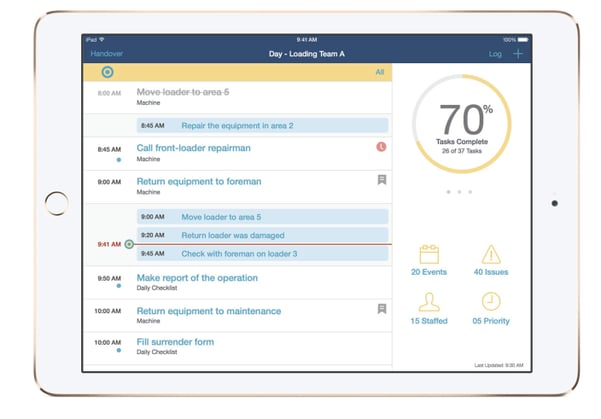 Order Commit for iPad.
Order Commit for iPad allows quick access to sales metrics and financial forecasts on individual products, making it easier for retailers to plan for the best product assortment.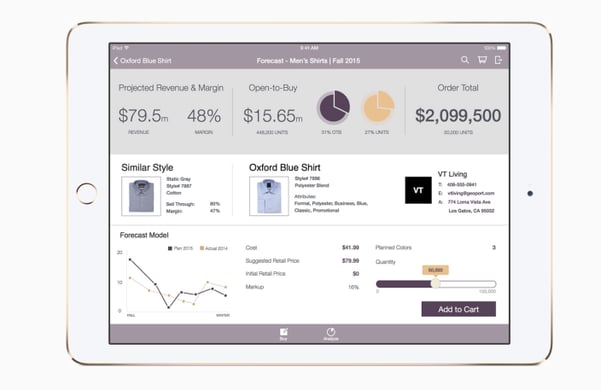 Risk Inspect for iPad.
Risk Inspect for iPad makes insurance assessments a breeze and reduces the need for costly repeat inspections. Using the iPad camera, inspectors can capture a photo and/or video of any site.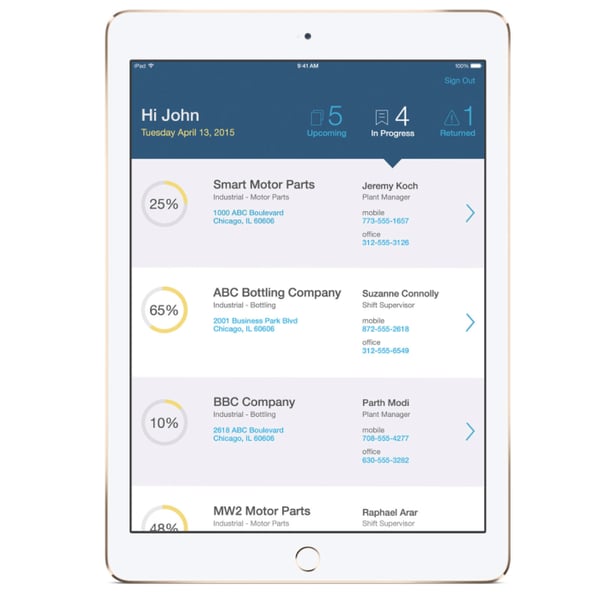 Ancillary Sale for iPhone.
Ancillary Sale for iPhone is designed to allow flight attendants a higher level of control over in-flight purchases which enables passengers to purchase upgrades, refreshments, and duty free merchandise using Apple Pay or a credit card while in flight.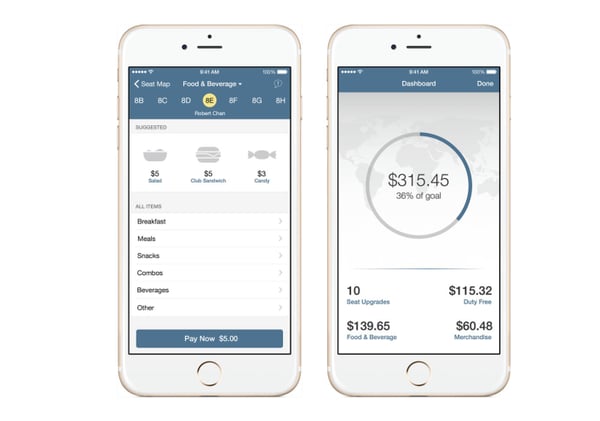 Where is the IBM-Apple Partnership Headed?
The partnership will be beneficial for both companies, but the success of the project will rely on the partnership's ability to consistently deliver apps that truly make a difference in how workers do their jobs. It's clear that 2015 will be the big test for Apple and IBM's collaboration, considering they plan to release 100 total MobileFirst apps by the end of the year. This is quite the ambitious goal, so stay tuned to see how they fare!
Don't Fall Behind!
Get the latest work-from-home and Humans First® IT tips straight to your inbox.