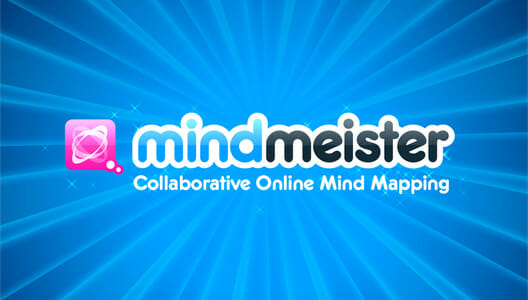 Here's something I just started using, but already love. MindMeister lets you share any mind map / brainstorming creation by inviting users by email, or simply send them a unique and secure direct link, similar to programs like DropBox or Google Drive. It's got a Free Trial period and then costs $9.99/month for the "Pro" version, which is feature-rich and includes support via email. There's a cheaper "Personal" version, but it lacks a lot of useful features.
So, the great part about MindMeister is that once you've shared this creation, you can invite people to a "thinking session" and collaborate on it in real-time. Everyone accesses the exact same version, eliminating the confusion of having a bunch of conflicting maps, and changes made by other users are highlighted in different colors within seconds. And just as with Google Documents, an integrated chat feature lets you exchange ideas with others in the session.
It's a pretty powerful tool, especially given that the change history of any creation you make is stored forever on MindMeisters servers. That means you can undo every change ever made to your brainstorming session step-by-step. You can revert to any prior revision and even playback the entire evolution of your mind map, which is a really effective way to see the thought process over time.
MindMeister is compatible with iPad, iPhone, and Android devices, allowing users to access their mind maps virtually anywhere. Mind maps are stored securely in the cloud with strong data encryption, tier-III hosting and 24/7 monitoring. Whew! Check out the video below to learn more about the software.
Don't Fall Behind!
Get the latest work-from-home and Humans First® IT tips straight to your inbox.