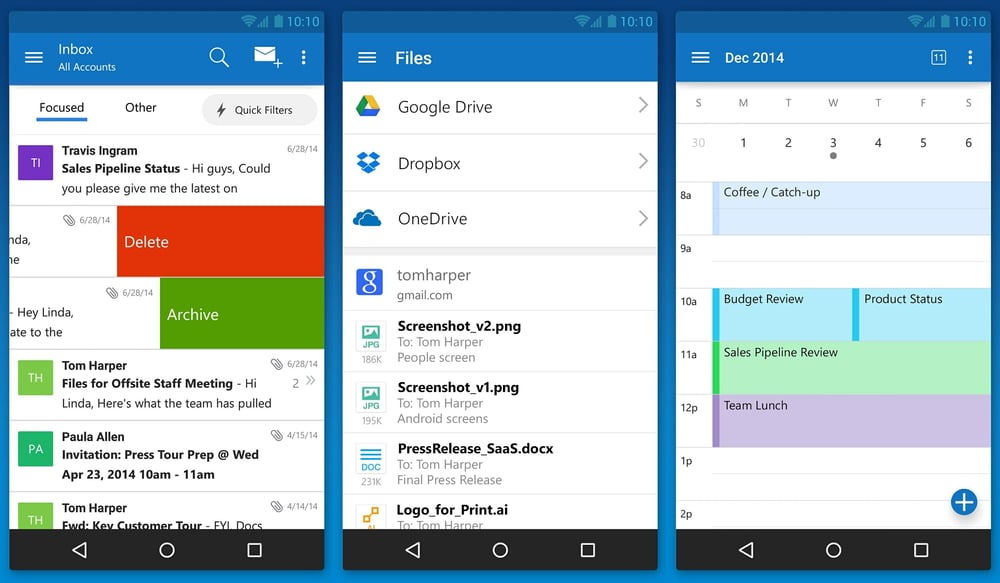 How Do You Manage Your Email When You're On The Go?
Although smartphones and tablets have become key locations for reading email, most people conduct only basic email functions on these devices and delay the rest until they're at their computer. Activities like sorting through large amounts of email, managing your calendar, and sharing files call for too many steps or multiple apps that don't always play nicely together.
In a move to change the mobile email experience, Microsoft announced the release of Outlook for iOS and a preview of Outlook for Android in January 2015. The new Outlook apps bring together the core tools you need to get things done: email, calendar, contacts, and files.
Here's a peek at some of the ways Outlook for iOS pumps up your email game:
Outlook for iOS and Android: New Features
Shortly after releasing the first version of Outlook for iOS and Android devices, Microsoft updated the apps with several IT controls and user-focused features that are important to enterprises.
IT Controls
While the first release of Outlook apps focused on providing a great end-user experience, Microsoft is also hard at work building the IT controls that business customers require:
PIN Lock
On iOS devices, if your company email policy requires devices to have a password in order to sync, Outlook will enforce this by checking to ensure a passcode is properly set. If the passcode hasn't been set, it will prompt you to set one up in iOS settings and you won't be able to access Outlook until this has been done.
Outlook for iOS is only offered for iOS 8.0 or later. These devices come with built-in encryption, which will encrypt all the data Outlook stores on your device once the passcode is enabled.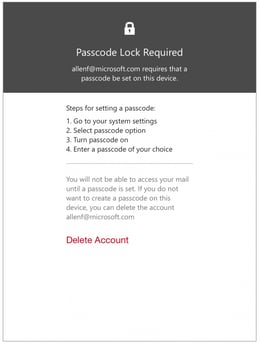 For Android devices, Outlook enforces screen lock rules. Google also provides controls that allows Outlook to honor additional Office 365 and Exchange policies regarding password length and complexity requirements, as well as the number of screen-unlock attempts allowed before the phone is wiped.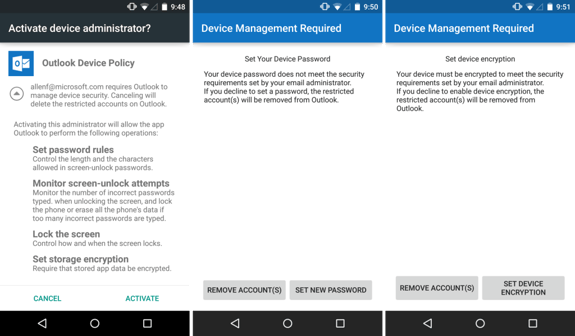 Quicker Remote Wipe Execution
Admin-led remote wipes will now happen within seconds. The Outlook app will reset, which will remove Outlook email, calendar, contacts, and files from the device, as well as from Outlook's cloud components. Since this is an app-level wipe, the wipe will not affect any of your personal apps and information (phew!).
User-Focused Features
Microsoft has also added several of the top feature requests they received since the initial release of the Outlook apps:
IMAP support
Outlook apps now handle the ability to sync mail from email providers that support IMAP (Internet Message Access Protocol), including AOL and Comcast. Using IDLE when possible means Outlook can allow push-like behavior, even with IMAP accounts. Outlook will sync every few minutes if the IMAP server doesn't support IDLE.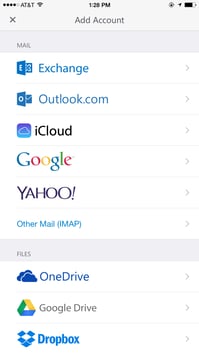 Toggle Conversation View For iOS
Outlook's default is to organize your email into conversations, where all messages with the same subject line are grouped together. You can turn this feature off in iOS, if you'd prefer to see each email individually in your mailbox: Settings > Organize Mail by Thread.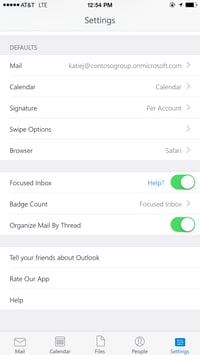 Customize Swipe Gestures On Android
Unlike other email apps, Outlook allows you to personalize swipe gestures to reflect your unique email habits. You can swipe right or left to archive, delete, move, flag, mark as read/unread, or schedule emails. To customize your swipe gestures: Settings > Swipe Options.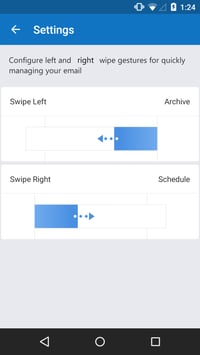 Change Folders For Swipe Gestures
You can now change the folders targeted in swipe gestures at any time. In the past, Outlook asked you which folder you wanted to use when you archived or scheduled an email. Now you can set a default folder, so that Outlook will no longer prompt you: Settings > Choose An Account > Advanced Settings > System Folders.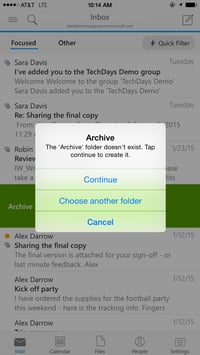 On the Horizon
Microsoft has pledged to continually release additional security and management features over the coming weeks and months. These features will help you get even more work done while on the go!
Upcoming IT controls:
Support for Microsoft's Intune mobile device management
Moving Outlook's cloud service from Amazon Web Service to Microsoft Azure
Upcoming user-focused features:
Support local syncing of contacts
Removing 'Preview' label from Outlook for Android
Improving localization for all 30 supported languages
So far, Microsoft has risen to the challenge. They have listened to users' feedback in order to update and improve features in the Outlook apps…many of which have been long overdue. We think the new Outlook apps are pretty sleek and powerful! What features would you like to see added in the future?
Don't Fall Behind!
Get the latest work-from-home and Humans First® IT tips straight to your inbox.