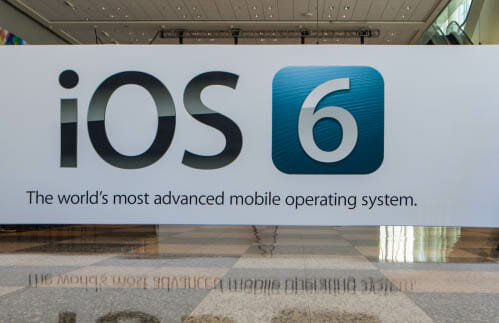 iOS 6 is now live. Curious Apple users can update their mobile devices by navigating to Settings>General>Software Update on any iPhone 3GS or later. A list of the features available on the new mobile OS is up on Apple's site. And for a handy, device specific list you can check out TechCrunch's chart.
Of particular note is the updated Maps app, which can now give turn-by-turn navigation instructions, "rotate" for isometric views, and contains some impressive eye candy in the form of Flyover, which allows users to check out major cities just like Superman would.
In addition to the Maps overhaul, iOS 6 introduces Panorana, which can capture panoramic images up to 240 degrees, and contains an update for the popular FaceTime application, allowing users to make FaceTime calls over cellular networks; a pretty cool feature provided AT&T doesn't get their way. But perhaps the niftiest new feature is a change to the Phone app. Let's say your best friend (or worst enemy) is calling and you can't talk (or don't want to). Well, with this new update you can select an automatic text reply like "can't talk right now," or literally any message you want sent out. It's never been easier to not have to talk to someone. Fun stuff.
Don't Fall Behind!
Get the latest work-from-home and Humans First® IT tips straight to your inbox.