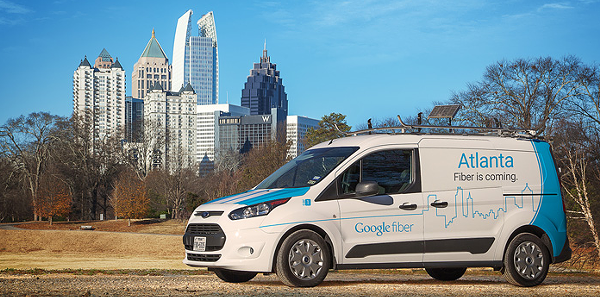 The time for Google Fiber is finally here!
Well, sort of…
Google recently announced they will be launching their high-speed fiber-optic internet service in four new metro areas: Charlotte, Raleigh-Durham, Nashville, and Atlanta (Home to Ripple HQ). This is the latest step in a very careful expansion of Google Fiber, which is currently offered in Austin, Kansas City, and Provo.
What's everyone so excited about?
Google Fiber is ultra-high speed broadband internet access that will be available to residential customers in the City of Atlanta and nine metro Atlanta cities. When we say ultra-high speed, we're not joking…Google Fiber provides internet connections at speeds of up to one gigabit per second which is about 100 times faster than the average U.S. internet connection!
Starting to feel the excitement?
Before you start thinking it's too good to be true, or there's no way the average consumer can afford Google Fiber…think again! In Kansas City, where the service first launched in 2012, Google charges $80 a month for the gigabit service and $120 a month for internet plus a cable-style TV package. There's also a slower version available for free, after a one-time construction fee. Pretty affordable for the Average Joe. And for businesses, it might well be worth the price for reliable ultra-high speed internet.
Fiberhoods!
When Google sets their sights on a new area to build their fiber network, they divide cities into small communities called "Fiberhoods." You can have your very own Fiberhood, if enough people in your area show interest.
Google originally planned to lay out fiber infrastructure across nine area cities over the next several months: Atlanta, Avondale Estates, Brookhaven, College Park, Decatur, East Point, Hapeville, Sandy Springs, and Smyrna. Google will design the high-speed network to cover all nine Atlanta Fiberhoods, but build it out based on demand.
Google has yet to share details on when we can expect Google Fiber to go live. In fact, the whole process is still pretty under wraps. What we do know is that the next stage of work includes designing and planning a new fiber-optic network down to a very detailed level. This process will take several months. After it's complete, Google Fiber and the City of Atlanta will begin constructing the network.
The next generation of innovation
We think Atlanta Mayor Kasim Reed summed up our feels pretty well:
"Google Fiber is the infrastructure for the next generation of innovation in Atlanta. High-speed internet access is essential to participate in the 21st century economy. In addition to supporting our thriving tech and startup communities, Google Fiber will bring greater economic opportunities to every quadrant of the City, so that the next great business idea is just as likely to come from Southwest Atlanta as it is from any other neighborhood."
We're excited to see how Google Fiber changes the game for high-speed internet and what that means for Atlanta! Are you excited for your Fiberhood?

As of now, Google Fiber is pretty limited in the Atlanta area and may not be available for your business. Looking on advice on what internet service provider is best for your business as well as other IT Support needs - including security? Ripple is a managed service provider who will take care of all of your IT needs. Speak with a member of the Ripple team today!
Don't Fall Behind!
Get the latest work-from-home and Humans First® IT tips straight to your inbox.