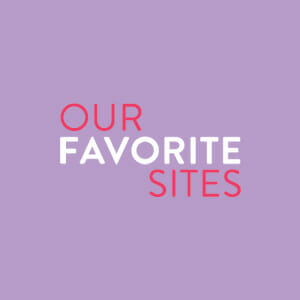 Being that a good number of people celebrate holidays in December, we thought it would be appropriate to list a couple of sustainable and/or eco-friendly shopping sites. And even if you don't celebrate a single day in December, these sites and products aren't as boring as the word sustainable might imply.

1. On SHFT you can find a ton of innovative and socially-conscious gifts, among other things. Founders Peter Glatzer and Adrian Grenier are both filmmakers —the site is a chockfull of videos— who believe in the simple principal that if consumers make informed choices about what they buy, businesses will respond to the demand and create better products. Call it naive, but nevertheless the site is a decent resource for finding a wide variety of unique gifts ranging in price from $9 to $500. Oh, and there's a 4-minute film on the site featuring something dubbed video painting, which is pretty amazing.

2. TerraCycle literally turns your trash into new products for you and others participating in what is referred to as upcycling. Their goal is to create national recycling systems for previously non-recyclable or hard-to-recycle waste. Anyone can sign up for these programs, called "Brigades," and start sending them trash. They'll even pay you a small amount for it. No joke. And crazy enough, most of the products they create (from what would otherwise be thrown away) are well-designed and would definitely fall in the one-of-a-kind category.

3. The DIY Guitar Pick Punch from ThinkGeek is pretty self-explanatory. If you know someone who's a shredder or strummer, it will definitely get some use. And because the punch reuses old IDs, credit cards, and plastic packaging to create new picks, it's sustainable (plastic isn't going out of fashion anytime soon) and economical (nothing beats free). Excellent.

4. Voltaic Fuse Solar Charger | From the website: The Fuse 4W Solar Charger ($129) is a lightweight way to add solar and battery power to any bag. It connects in seconds to bags, tents, bicycles and pretty much anyplace else you might need solar power. | Neat, right? The panel can charge your phone, digital camera, or handheld gaming system, and there's an external battery that can store power for when the sun goes down. Voltaic also makes a 10 W charger and "solar bags" (backpacks) capable of charging tablets and big ol' laptops. They range in price from $129 to $389, and are sure to be appreciated by hikers, techies, and anyone who's into green energy. Oh, and these guys make some cool solar stuff, too.

Those are our selections for December. We hope you find some of this stuff to be useful, or at least worth investigating. We'll have another round of favorite websites next month. If you have some that you think we should mention, please comment below with the url. Thanks.






Don't Fall Behind!
Get the latest work-from-home and Humans First® IT tips straight to your inbox.