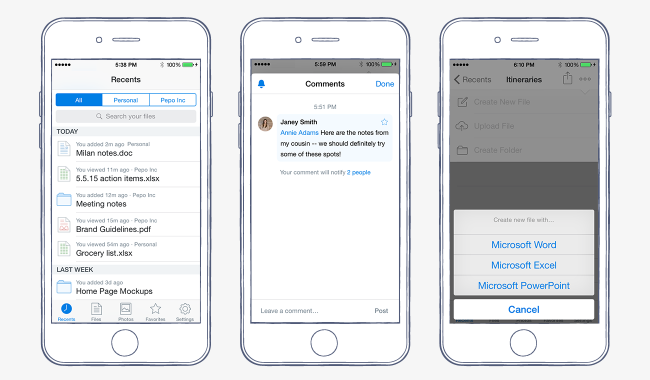 Do more from anywhere
In 2014, Dropbox and Microsoft announced they'd be teaming up to help users do more on their phones, tablets, and the web. Since making the announcement, Dropbox has made numerous upgrades to its app, most of them improving the functionality with Microsoft Office.
The most recent Dropbox for iOS update has added new functionality that allows you to use your iPad or iPhone to quickly open the files most recently worked on, ask others for feedback, and create new files.
Here's a peek at what's new and what to look forward to:
Recent Tabs
The files you're most likely to need on the go will now be front and center with the new home view for iPhones and iPads. It displays a list of all the files you've recently used on that device or on dropbox.com. Whether it was uploaded, renamed, edited, or viewed, it will show up right where you need it.
Commenting
In addition to adding comments on files via the Dropbox website, you can now comment on files from your iOS device. This feature will allow you to gather feedback or respond to discussions even when you're on the go. With the Dropbox for iOS update, you can bring a person into the conversation by tagging them using the @ symbol followed by their name or email address. When someone mentions you in a comment or gives their feedback, the app will notify you, ensuring you stay in the loop and can respond from anywhere.
Creating Docs
Be on the lookout for more features to be released soon, including the ability to create Microsoft Office docs right from the Dropbox for iOS app. Tech News Today explains that the new feature will allow users to create Microsoft Office files including PowerPoint, Word, and Excel files right from Dropbox, without the need to switch over to another app. The newly created files will be saved on your Dropbox, allowing users to access the files on any device or the web.
Giving you the tools you need to be productive
These features are designed to work together, allowing everyone involved to collaborate efficiently with one another. It's all part of Dropbox and Microsoft's mission to make your life easier, wherever you are, by giving you the tools you need to be productive.
It will be interesting to see how these new features fare against Google and Box, since they've both been successful winning over businesses with their wide range of collaborative features. Stay tuned to see who comes out on top!
Don't Fall Behind!
Get the latest work-from-home and Humans First® IT tips straight to your inbox.