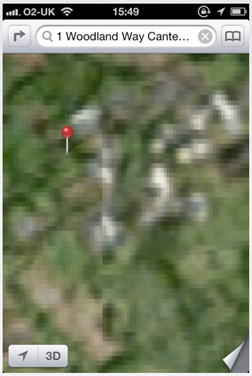 One day after going live, the backlash for Apple's Maps app in iOS 6 is coming on strong and fierce. There's already a tumblr page showcasing bad map data, warped bridges, cities under water, and other calamities. Forget about finding your local takeout joint. It will be hard enough to finding a city in Scotland through the clouds.
The BBC has some good Apple Maps vs Google Maps shot comparisons, including Apple satellite images covered by clouds, and image resolution so poor it could be from a decade ago.
However, if you are eager to upgrade to iOS 6, but still want the Google maps application, your best bet is to navigate to maps.google.com using your mobile device's browser. Then use the export feature and save the page to your home screen. Once exported, you'll see it complete with its own appropriate app icon. It won't be as fast as the old native iOS 5 version, but it's better than getting lost.
Keep your fingers crossed for Google to come out with an iOS 6 app in the future.
Don't Fall Behind!
Get the latest work-from-home and Humans First® IT tips straight to your inbox.