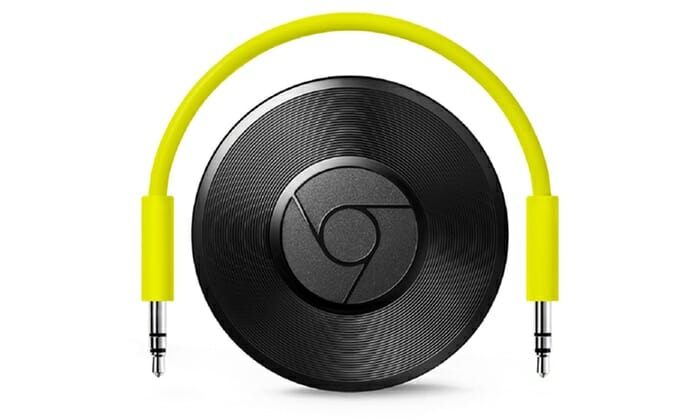 Consider Your Environment.
Setting up the office to stream music in multiple rooms is a fun (but potentially expensive) little project. There are numerous options available to you to stream audio. Just fitting the office with speakers might not be ideal -or could cause frustration. In most cases, streaming audio works best with granularity. The sound devices should be easily toggled on, off, or isolated to a different source altogether. Being able to pull out your phone and easily mute would be ideal. Alternatively, there's always the option to wave your arms like a crazed lunatic in an effort to get the attention of your colleague across the office who happens to be controlling the music.
Think about how you want your staff to react or experience adding sound to their precious space. Consider their needs to make a pleasurable sound environment versus logistical nightmare. It's all about the granularity with something like this. Below we take that into consideration and provide a look at some of the simplest, sleekest, and most affordable options.
The Top 3: Google, Airfoil, and Sonos
1. Stream with Chromecast or Google Home
Chromecast Audio is a very affordable ($35.00) way to turn any speaker system with either an RCA, 3.5mm, or Optical connection into a multi-room streaming station. Further, if you have a Google Home, you can group it to other Chromecast Audio devices and stream audio to any room in the office with the sound of your voice.
So How do I stream with Chromecast?
Each speaker (or pair of speakers) you setup will need to connect directly to the Chromecast Audio device. So long as the audio cable cable/splitter connects directly from the Chromecast to the speaker/receiver, you'll be in good shape. Read: A wire from Chromecast Audio must be connected to the speaker. Once the audio cord is connected, you'll also need two available power outlets to plug both the speaker and the Chromecast Audio in. This is where a Google Home could be beneficial to reduce wires, cables, and available outlets.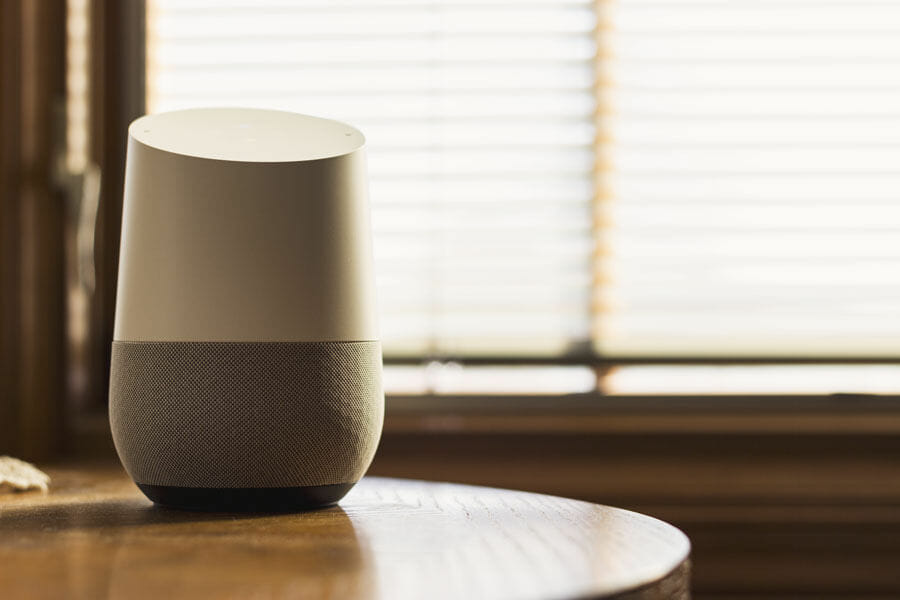 Not to get ahead of ourselves, but in order to group several Chromecast Audio devices or Google Home's together for multi-room streaming, you'll need to download the Google Home app on either your iPhone or Android device. Grouping the devices is very simple, but you'll need to first go through setting up the individual Chromecast Audio or Google Home devices –This is about a two minute exercise per device. Once all the devices show up in your Home App, you'll be able to create groups. FYI: Chromecast for TV does not allow for grouping -I know, it's a bummer (later on we'll talk about a workaround with AirFoil).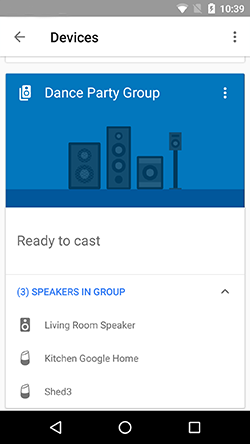 Here's everything you need (per our friends at Google) to get started:
A Chromecast Audio device
Latest version of the Google Home app
Access to an available power socket and a secure wireless network.
Meet the minimum Operating System (OS) requirements to run the Google Home app .
Access to a secure wireless network (make sure that you have the wireless network password to hand).
Connection to Wi-Fi (either 2.4 GHz or 5 GHz) and an Internet connection.
A compatible Android or iOS device or tablet, or Mac, Windows or Chromebook computer (see list below).
Availability and performance of certain features, services and applications are device and network-dependent and may not be available in all areas; subscription(s) may be required, and additional terms, conditions and/or charges may apply.
To note, there are Chromecast built in speakers available, but for the cost of a Chromecast Audio, it's debatable whether this feature is really worth the cost. However, if extra plugs and wires is a concern, this could be worth the extra cash.
Update: Bluetooth streaming directly to your Google Home is slowly rolling out in Aug 2017 which will allow for virtually any sound source (e.g. iTunes) from your mobile device!
Still need more help? Check out this tutorial.
So What Does a Chromecast Audio/ Google Home Office Look like?
When it comes multi-room streaming, a combination of Chromecast Audio and Google Home devices is exceptional and cost-effective. One thing I've yet to experience is any lag or that awful echo sound with multi-room streaming on Chromecasts. It's rock solid and really simple to use. From the app you can adjust the volume for each speaker or even turn it off entirely. Further, the app will help you see what sources are available to stream such as Google Play Music, iHeartRadio, or Spotify.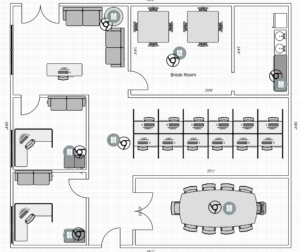 A fun office party idea… If the bulk of your office owns a smartphone and has the Google Home app, you can turn on Guest Mode which will allow anyone in the office to add music to the cue. A word of warning: this may sound fun, but could completely backfire when Tony in accounting wants nothing but Burt Bacharach and is the only team member enjoying guest mode.
Still confused, here's a great setup video to watch.
2. Stream with Airfoil (for those of you with a bunch of bluetooth speakers)
This might be my favorite (yet potentially most difficult) option. If you have multiple bluetooth speakers -and even some extra iPads or Android tablets hanging around, you might want to consider Airfoil. It's a bit of a headache getting set up as you'll need a Mac or Windows machine available to serve as your media hub, but it can connect to virtually any device over WiFi through Bluetooth, AirPlay, or even Chromecast.
It does what now?
AirFoil enables streaming from your Mac or PC to virtually any device connected to your network. Unlike Google Chromecast, you're no longer limited to devices that are connected to Chromecast Audio. For example, a Chromecast Audio device, an iPad, and an Apple TV could all receive the same stream and play through the devices speakers (or speakers connected to the device).
To begin, just launch Airfoil. It will scan your network to find all available audio outputs. Within the menu on your Mac or PC, you'll be able to check off the audio source you wish to transmit, then click the Transmit button next to the outputs you want to send audio to. Once the sound is playing (like Chromecast), you can adjust the volumes for each device.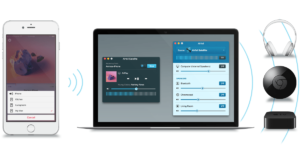 Below is a snapshot of my home setup. As you can see, the Chrome emblems are Chromecast devices, and the Apple logo are…well… Apple devices.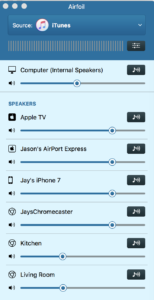 What makes this such an outstanding experience, is without Airfoil I cannot stream iTunes to my Chromecast group or cannot stream my Chromecast sound to my Chromecast TV or Apple devices. With Airfoil, I can stream to all of them simultaneously. This means I can have an iPad in smaller rooms or a Chromecast or Sonos playbase hooked up to my Chromecast TV and stream audio from it.
Why isn't my tablet or phone showing up in the list?
In order for an iPad/iPhone/Android table etc to show up on the list, you'll just need to add the Airfoil satellite app. Actually, you could even connect another computer (if it has speakers you want to stream to) to Airfoil as well so long as you've got the Satellite app installed on it. Even better, the satellite app lets you control the audio sound from your phone or tablet if you'r not at the base computer running Airfoil.
A word of caution: If you're going to use Airfoil, try to relax with the amount of devices and speakers you can connect to (guilty as charged). I have occasionally encountered issues with delays & echoes which can be infuriating and defeat the purpose of having audio streaming throughout the office. This is mostly due to trying to play the music on multiple speakers in close proximity. Keep the volume low and keep the speakers/ipads/stuff as far from each other as possible to ensure it's a pleasant experience. When it's done right, it's awesome!
What Does an Airfoil Office Look like?
Here's an example of what an Airfoil setup could look like. There are multiple bluetooth/wi-fi speakers, iPads, Chromecast devices, and a Mac Mini/PC serving as the base. Remember, I could also have an Apple TV connected to a Sonos PlayBase or a soundbar -AirFoil would connect via the Apple TV and play the audio through the sound bar. All of the iPads need to be running the Airfoil satellite app and all of the Chromecasts are connected to Airfoil via Wifi through the Mac Mini/PC running the Airfoil client. It looks a little messy, but will enable multi-room streaming on pretty much everything. You could even use your phone as a speaker.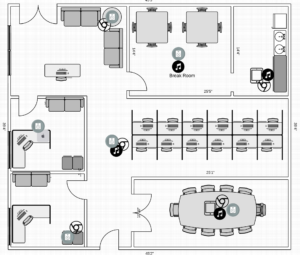 3. Stream with Sonos
This is probably the the most common place people start when considering multi-room audio. For that reason, I've decided to tackle it last. Sonos has been around the longest. To note, they're also quite expensive. You'll see a LOT of audiophiles snarky comments when it comes to Sonos. But there's a reason they're #1 in the game, the sound is excellent, the setup is simple, and they look awesome. I happen to have a Playbase at home. The sound is lovely and you get what you pay for… mostly. For most Sonos office shoppers, they'll want to purchase several Play:1 and/or Play:3 devices.
Some considerations…
Sonos works very well with iTunes, Amazon Music, Google Play Music, iHeartRadio, Spotify, Pandora, and a whole lot more. What's the catch? You must do it all through their app. At first I found this painful and annoying. However, once I realized I could save my playlists, albums, songs, stations, and podcasts to a favorites list, I immediately preferred it over toggling between many different apps from my phone.
Sonos is expensive. For the cost of my Playbase , I could have easily purchased several smaller bluetooth devices that could have been placed throughout my home or office.
Like anything that depends on WiFi, you may encounter issue if your office/home is large and there are multiple access points. Honestly, if you have WiFi issues without Sonos -and you're ok with the cost of Sonos, you really should consider a wired solution.
Hey?! What about Alexa?
It's a great question. I also happen to have an EchoDot -even purchased one of these babies to make the sound even better. Amazon does multi-room streaming is now possible. Here's a step by step to get started.
Got Sonos and Alexa or a Sonos with Alexa?
Currently, Alexa doesn't support audio grouping to non-Alexa devices. This is even true if you have a Sonos speaker with Alexa built in. So, in order to get multi-room music and be able to ask Alexa to control it, you need to do as follows:
Ask Alexa to play on one of your Sonos groups. Like, "Alexa, play in kitchen."
Assuming that worked, now go into the Sonos app and group the other speaker groups to kitchen.
Going forward, the audio group will act as one. It's a little messy but will serve you well after the 1x grouping from the Sonos app.
So for example, once the music is playing on kitchen and the speakers are grouped, you should just be able to say "Alexa next song" and it will change in all rooms that were grouped in the Sonos app. Cool stuff!
Want some more of our tips? Check out our blog.
Don't Fall Behind!
Get the latest work-from-home and Humans First® IT tips straight to your inbox.